So we changed our mind and stayed home for Easter dinner. We decided it's just too busy around here and we didn't want to fight the crowds.  Fortunately, we decided on Wednesday night so I was able to shop on Thursday and NOT fight the crowds in the markets.
PINEAPPLE CARROT TOP BROWN SUGAR GLAZED HAM
1 spiral sliced ham 8-10 pounds
1 jar pineapple preserves
1/2 cup minced carrot tops
2 cups brown sugar
Add the ham to the slow cooker, trimming off the bottom as needed to fit it into the slow cooker Add the trimmed fat pieces around the ham in the slow cooker.  They will help keep the moisture level up.
Whisk together preserves and minced carrot tops.
Spread glaze on ham.
Cover with the brown sugar.
Cook on low for 2-3 hours.
Cover with a light covering of brown sugar and serve.
ROASTED CARROTS AND ASPARAGUS with BERNAISE SAUCE
3 large carrots, sliced thinly and diagonally
3-4 stalks asparagus, per person, trimmed and cut into pieces
2 tablespoons butter
salt and pepper, to taste
1 batch Bernaise sauce
Bring a double boiler of water to a boil.
Add butter, salt and pepper to water.
Add carrots and asparagus to vegetable steamer.
Cover and steam 15-20 minutes until crisp tender.
Top with sauce and serve immediately.
BERNAISE SAUCE
1 tablespoon plus 1 cup (2 sticks) unsalted butter, cut into 1/2″ cubes
3 tablespoons minced shallots
Kosher salt and freshly ground black pepper
2 tablespoons Champagne vinegar or white wine vinegar
2 large egg yolks
Juice of 1 large fresh lemon
1 tablespoon finely chopped fresh tarragon
Melt 1 tablespoon butter in a small saucepan over medium heat.
Add shallots and a pinch of salt and pepper; stir to coat.
Stir in vinegar, reduce heat to medium-low, and cook until vinegar is evaporated, 3-4 minutes.
Reduce heat to low and continue cooking shallots, stirring frequently, until tender and translucent, about 5 minutes longer.
Transfer shallot reduction to a small bowl and let cool completely.
Meanwhile, fill a blender with hot water to warm it; set aside.
Melt remaining 1 cup butter in a small saucepan over medium heat until butter is foamy.
Transfer butter to a measuring cup.
Drain blender and dry well.
Combine egg yolks, lemon juice, and 1 tablespoon water in warm, dry blender.
Purée mixture until smooth.
With blender running, slowly pour in hot butter in a thin stream of droplets, discarding milk solids at bottom of measuring cup. Blend until smooth and creamy, 2-3 minutes.
Pour sauce into a medium bowl stirring in shallot reduction and tarragon.
Season to taste with salt, pepper, and more lemon juice, if desired.
DO AHEAD: Can be made 1 hour ahead. Cover and let stand at room temperature. I prefer fresh if your time allows.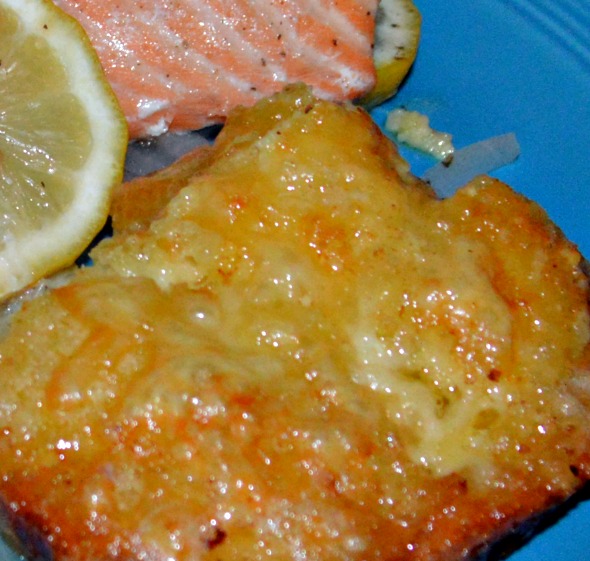 POTATOES AU GRATIN
1/2 cup butter
16 oz. whipping cream
5 large russet potatoes
1 teaspoon salt
1/2 teaspoon paprika
1/2 teaspoon Dijon mustard
1/2 teaspoon white pepper
1 teaspoon minced garlic (jar) or 1 clove
2 cups grated 4 white cheese mix (Gruyere, Muenster, etc…)
2 cups rates sharp cheddar
Wondra Flour
Preheat oven to 350°.
Peel and thinly slice potatoes.
Grease 9×13 baking dish.
In a large sauce pan, melt the butter.
Gradually add the whipping cream and spices. Blend well.
Gradually add the flour until the mixture thickens, but it is still pourable!
Mix the cheeses all together.
Layer the potatoes, cheese and cream mixture ending with cheese on top.
Bake 45 minutes or until potatoes are tender and golden brown.
I developed this recipe for a request from our youngest and it quickly became a family favorite.
Dessert was a recent inspiration from a new restaurant.  Tony Mandola's Gulf Coast Kitchen is a fantastic place.  We had the BEST waiter who made our meal so enjoyable while he treated us to dessert and the history of two restaurant families (Carrabas Italian Grill and Ninfas Mexican Cantina) melding together to create this restaurant. I couldn't find a recipe so I kind of made it up as I went and came VERY close.
BANANA KEY LIME PIE
1 large firm banana, sliced thin
1/4 cup Malibu rum
1 graham cracker crumb crust
14 ounce can Eagle sweetened condensed milk
3 egg yolks + 2 tablespoons sugar
1/2 cup Key Lime Juice
Preheat oven to 350°.
Soak banana slices in rum.
Pat banana slices dry.
Combine milk, egg yolks, sugar and lime juice, beating until smooth like custard.
Layer banana slices in a layer on top of graham cracker crust.
Top with custard and bake 12-15 minutes until JUST barely set.
Cool 10 minutes.
Move to refrigerator, chilling several hours before serving.
Top with whipped cream.
Save
Save