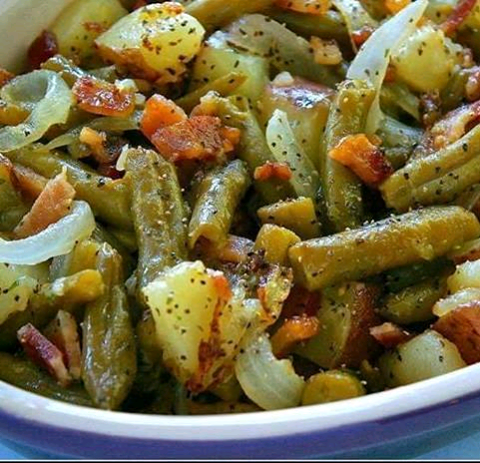 4 tablespoons butter
1 VERY small sweet onion, cut into thin wedges
1 medium regular red potato, unpeeled, ½-3/4″ dice
¼ teaspoon coarse ground black pepper
3 strips crisp-cooked bacon, thinly sliced
2 cloves garlic, minced
1½ teaspoon dry Hidden Valley Ranch Salad Dressing or Dip Mix
1 (14.5 oz.) can green beans, drained WELL
In medium skillet, melt butter.
Add onion, potato and pepper, sautéing over medium heat until potatoes are fork tender.
Add bacon, garlic, and Ranch Mix. Stir in well.
Fold in green beans and heat through, simmering, occasionally stirring gently.
Add pepper to taste.
NOTE: Ranch Mixes are salty so NO need to add extra salt.
Save