I hope everyone had a wonderful week/weekend. Our Memorial Day weekend was hot and humid when the air conditioning went out and we couldn't get the A/C guy here until Tuesday morning – seems like these things always happen on a holiday weekend. Then, just shortly after I posted Happy Homemaker Monday last week my world fell apart and I lost most of the week.

Grief is a strange thing in how it affects us. We had to make the worst decision of our life at the emergency vet Monday morning. Losing my best friend, my Whiskey dog, truly was the last straw in a string of multiple deaths the past few months and I just fell all to pieces. I know she was almost 15, but I just wasn't ready for it to happen the way it did.
Once I started to pull out of the deep hole I was in I did get a few things done, but will try and take up the slack this week. Hoping to get back to myself this week.


THE WEATHER OUTSIDE
I have given up on listening to the weatherman – the weather will be what it will be. The only thing I can count on is that hurricane season is here and it will be hot and humid! We did have a HUGE storm yesterday and have a pretty high chance of thunderstorms again today and tomorrow.
ON THE BREAKFAST PLATE
Oatmeal with brown sugar and golden raisins with coffee.
AS I LOOK AROUND THE HOUSE / WEEKLY TO DO LIST & HOUSE PROJECTS

LAUNDRY

… just a couple loads of towels to be folded.


LIVING AREAS

… mostly tidy, but need to do floors.


KITCHEN

… quite clean, but I plan to make a mess soon as I do the last resurfacing of the countertops.
STUDIO... I did a deep clean week before last and was planning on making messes as I began some Christmas cards but never got around to them with all the sadness from losing Whiskey. I just couldn't get into the spirit.


YARD

… Adding some grass seeds and fertilizer.


BLOG

… some recipe updating and planning for future posts. I'm even thinking ahead to BLOGMAS 2017
CURRENTLY READING & TELEVISION / DVR

We did watch two amazing movies this week. I'm convinced RedBox released them just this week especially for me! Both movies were in perfect timing with the tough week we were having. The first was A DOG'S PURPOSE and then THE SHACK. They both spoke to my heart and soul to restore order to my world. It is just that simple!

Ironically, the quote that spoke the loudest to me was also the one Sandra posted. We must have both felt the same thing, which is a good thing in my book.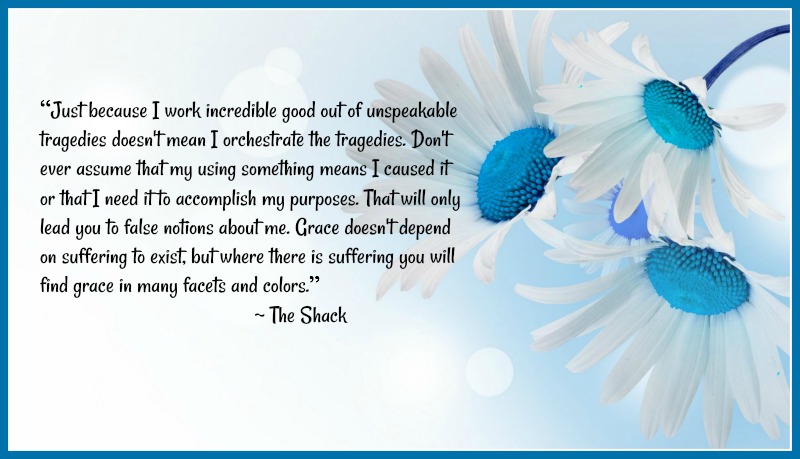 I need to check and see if there are any new shows starting this week for the summer, but for now we are just watching some Netflix shows and waiting for the summer season to really kick in. At least America's got talent is back and I like Tyra Banks as Nick Cannon's replacement.
Still trying to finish the Ava Miles Dare River 5 book series. I'm on book 5 finally, The Fountain of Infinite Wishes
MENU PLANS FOR THE WEEK
Last week's menu never happened so we'll try again this week. I did have a couple recipes from last week that were already ready to post at least.
| | | | | | | | |
| --- | --- | --- | --- | --- | --- | --- | --- |
| | MONDAY | TUESDAY | WEDNESDAY | THURSDAY | FRIDAY | SATURDAY | SUNDAY |
| BREAKFAST | FRUIT & COFFEE | SCRAMBLED EGGS | | FRUIT & COFFEE | SCRAMBLED EGGS | OUT | |
| LUNCH | | SOUP | MEAT ROLL-UPS | | | OUT | |
| DINNER | BEEF STROGANOFF & SALAD | VENETIAN CHICKEN AND MASHED POTATOES | PIONEER BEAN DINNER and CORN BREAD | ARTICHOKE FRITTERS & HOMEMADE MAC & CHEESE | PECAN CHICKEN with MAPLE CREAM SAUCE from LYNN'S PARADISE CAFE | OUT | OUT |
| DESSERT | | | | | | | |
SUCCESSFUL RECIPE LINKS FROM LAST WEEK
HEALTH & BEAUTY TIPS
HOMEMAKING/COOKING TIP
THINGS THAT ARE MAKING ME HAPPY or ON MY MIND
There have been so many things going on in our life the past few years that I have been fretting about or just being upset about. I keep focusing on a time in my life when I wanted to do something (who can even remember what now?) and saying something along the lines of "That's NOT fair!" and my dad replying with "who said life was gong to be fair?". That one statement was maybe one of the best lessons I ever learned in life. There are a few things I know for sure:
BAD things DO happen to GOOD people.
We can NEVER know for sure what someone else is thinking or feeling.
OUR life experiences are only ours as are OUR reactions to events.
The scene in THE SHACK where Mack meets Wisdom spoke volumes to me. It truly reminds me that we need to realize and remember that we are truly here to help others, NOT be their judge. Our path to happiness and a sense of purpose in this life that leaves us content depends on our ability to do just that.
The other important scene to me was where the Father teaches him about forgiveness. Forgiveness is for you as much as anything so you are not wallowing in your own grief and discontent. You can NEVER change the past so you MUST find a way to live in the present and be available to a future that is happy and loving.
LOOKING FORWARD TO

A short trip later this week for hubby's military unit.
Planning our research trip for next month.
FAVORITE PHOTO FROM THE CAMERA

Granted this is from 15 years ago, but I had to post it. IT IS ONE OF MY TWO ALL TIME FAVORITES. I found enough old pictures to do Whiskey's memorial post while I had it me to do it.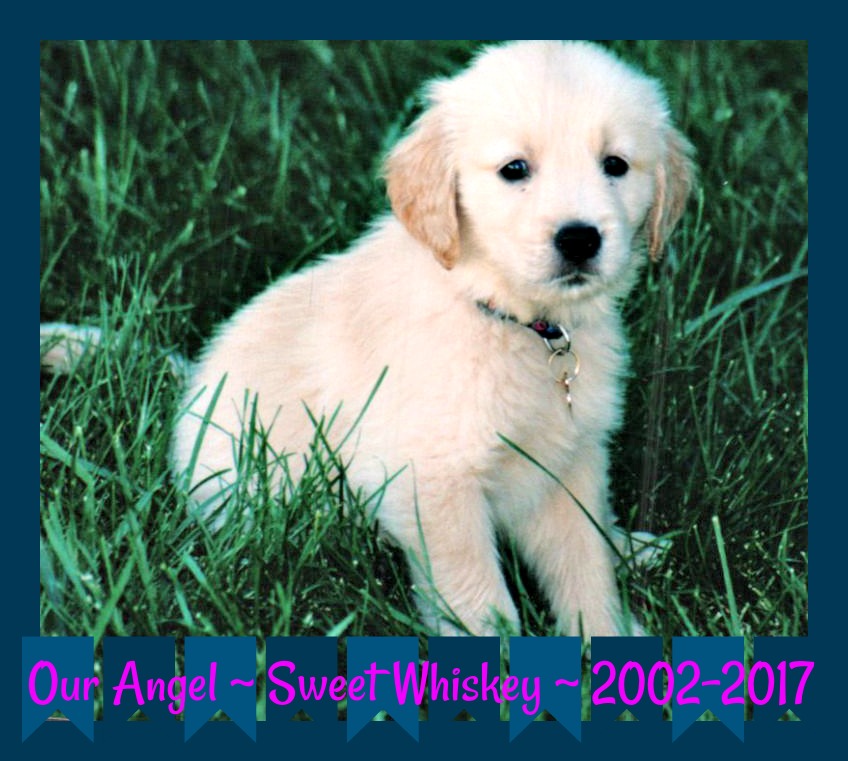 INSPIRATION
That said:
Be sure to link up with Sandra at Diary of a Stay at Home Mom for Happy homemaker Monday and with Laura at I'm an Organizing Junkie for Menu Plan Monday.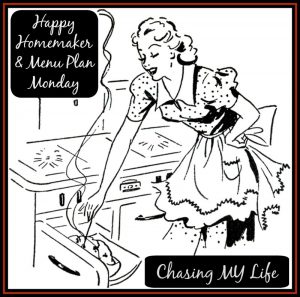 Save
Save
Save
Save
Save
Save
Save
Save
Save
Save
Save
Save
Save
Save
Save
Save
Save
Save
Save