I originally found this recipe when we were living in the mountains and needed some hearty rib sticking meals in the long cold winters.  I found it in an old (1990) cook book called in Sarah Leah Chase's Cold Weather Cooking. She called this chapter Stormy Weather and Magic Mountains. The recipes were all from the New England area, but really spoke to me as all around cold weather YUM!
According to Ms. Chase the original recipe was one her grandmother concocted for her grandfather to be able to make hearty food on hunting and fishing trips. While her family debated whose version was the best, I have adapted it to my family's likes.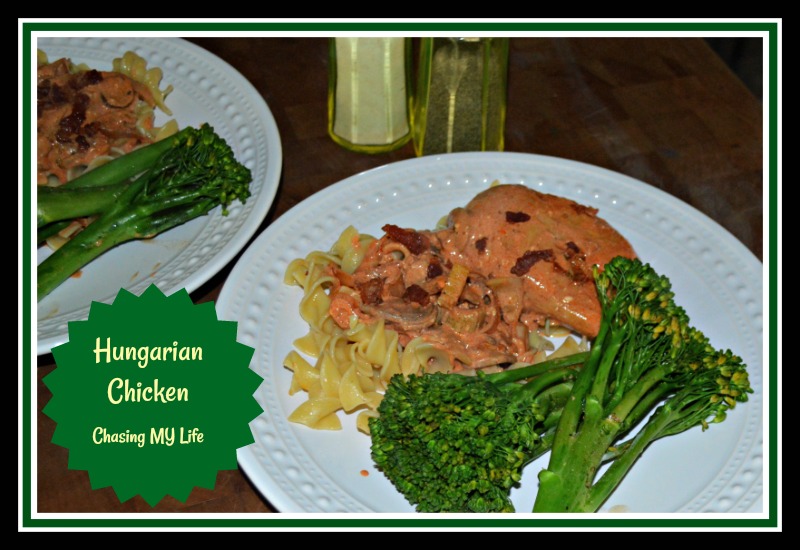 HUNGARIAN CHICKEN ala TAMY
Serves 4
4 slices bacon, diced
1 small Vidalia onion, halved root to tip and sliced thin
1 shallot, sliced thin
1 Portabella mushroom, cleaned and sliced thin
1/2 cup thinly sliced celery hearts and leaves
2-3 tablespoons SWEET Hungarian Paprika
1 tablespoon tomato paste
1 cup homemade chicken broth
4 boneless, skinless chicken pieces**
1/4 cup Wondra flour
1 cup sour cream
Fresh ground salt and pepper, to taste
Chopped fresh parsley for garnish
Prepared egg noodles***
In a large skillet over medium-high heat brown bacon until crisp and crumbly.
With a slotted spoon remove bacon pieces to drain on paper towels.
Add onions and shallot to hot bacon grease and saute'  JUST until soft and beginning to brown.
Add mushrooms to pan and saute' JUST until mushrooms are cooked through.
With a slotted spoon remove onions and mushrooms to paper towels also to drain.
Generously season chicken breasts with salt and pepper.
Add chicken breasts to bacon grease and sear well on both sides.
Remove chicken (it will not be cooked through yet and that is okay!)
Whisk together the chicken broth, paprika and tomato paste until well blended.
Add tomato mixture to pan along with celery pieces.
Return chicken, onions and mushrooms to the pan making sure to spoon sauce over top of everything.
Reduce heat, cover and SLOW simmer, basting frequently, until chicken is tender and cooked through 30-45 minutes or more depending on breast thickness.
Remove chicken pieces and keep warm.
Whisk sour cream and flour together until smooth.
SLOWLY (so as not to curdle your sour cream) add the sour cream mixture to the tomato mixture until well blended.
Heat though, stirring constantly, but DO NOT BOIL!
Return chicken to pan and coat well with sauce.
Serve over wide egg noodles.
**NOTE: I have also cut the chicken into chunks to make more of a stew with great success. Doing it this way will reduce your simmer time considerably.
***NOTE: Also quite good over mashed potatoes for a more rib sticking comfort feel.