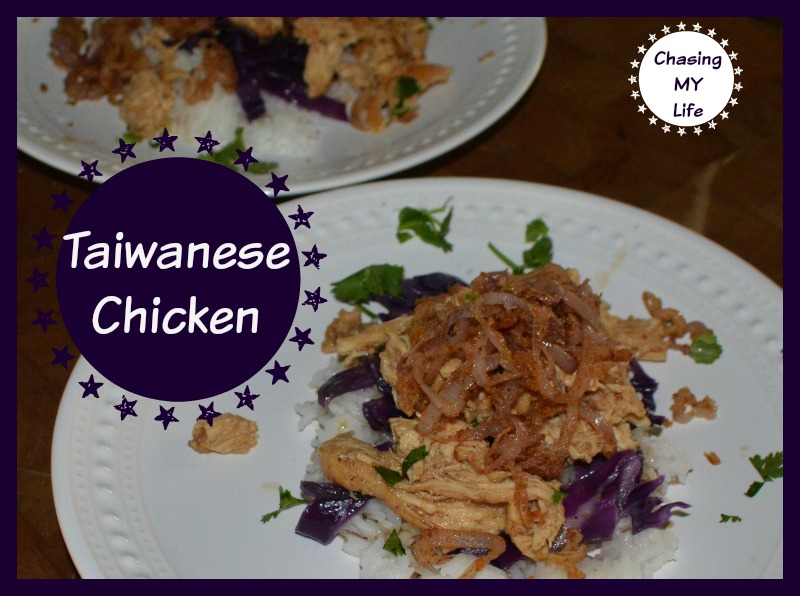 WHY IT WORKS: This recipe is savory and spicy with a chile sauce and tempered by fluffy Jasmine rice. The crispy shallots add a crisp bite to meld all the textures together and tempt your palette.
TAWAINESE CHICKEN
2 boneless, skinless chicken breasts
1/2 pound red cabbage, sliced thin
2 tablespoons rice flour
1 1/2 tablespoons sugar
1 shallot
2 tablespoons Bragg's Amino Acids
1 dried chile de árbol
2 + 1 tablespoons Avocado oil
1/2 cup Jasmin rice
1 + 1/2 cup water
Cilantro , for garnish
In a small saucepan heat 1 cup water with a BIG pinch of salt and the rice to boiling.
Once it boils, cover and reduce heat to low.
Cook 12-14 minutes until rice is tender and all the water has been absorbed.
Remove from heat and fluff rice with a fork.
Drizzle with avocado oil and set aside.
While the rice is cooking, prepare the sauce.
In a saucepan combine the Bragg's amino acids, sugar, water and as much of the chile as you desire and bring to a boil.
Reduce heat to low and cook, stirring frequently until sugar is dissolved and the sauce has reduced by half.
Remove the chile.
Pour sauce into a large mixing bowl.
Heat 2 tablespoons of oil over medium-high heat.
Pat chicken dry, season with salt and pepper on both sides.
Add chicken and cook 5 minutes and then flip to second side and cook 5 minutes more until both sides are browned well.
Remove chicken to cutting board for shredding.
Shred chicken pieces and add to bowl with sauce.
Add a scant 1/2 cup water to pan and warm.
Add cabbage to the pan, seasoning with salt and pepper.
Stir occasionally and cook until wilted and water has been absorbed.
Slice shallot into thing rings.
In a mixing bowl toss the shallot rings with the rice flour, separating the rings into individual pieces.
Season with salt and pepper.
Heat oil over medium high heat.
Add shallots in a single layer to sizzling oil.
Stir frequently until browned and crispy, 2-4 minutes.
Divide the rice between 2 plates.
Top with cabbage.
Top with shredded chicken.
Top with shallots and cilantro.
Save
Save
Save