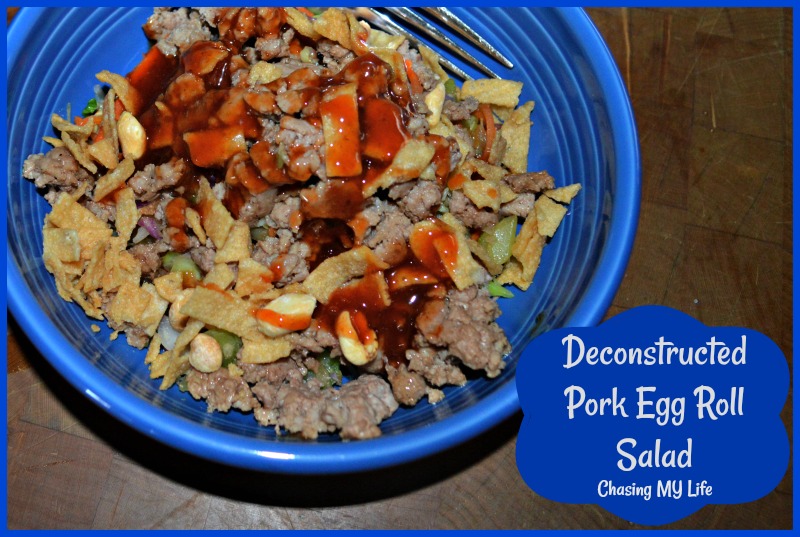 DECONSTRUCTED PORK EGG ROLL SALAD serves 2
1 + 1 tablespoon avocado oil
1 bunch green onions, sliced thin angularly – separate whites from greens
2 stalks celery, halved lengthwise and sliced thin angularly
2 ounces sweet chili sauce
1 teaspoon Dijon mustard
3/4 pound ground pork
2 tablespoons Ponzu sauce (store bought or make your own – recipe below)
1 small package slaw mix (cabbage with shredded carrots and red cabbage)
Fresh Gourmet crispy wonton strips
salt and pepper, to taste
Heat oil in skillet.
Add pork and white portions of green onions. Add a pinch of salt and cooking until pork is broken up and pink is gone.
Add 1 tablespoon of Ponzu sauce and stir to mix well.
Remove pork mixture and set aside.
Add 1 tablespoon avocado oil to hot pan.
Add celery, slaw mix and a pinch of salt and pepper, stirring for a couple minutes until celery is crisp tender.
Add pork mixture bak to pan along with remaining Ponzu sauce and stir to mix well.
Divide the mixture between bowls and top with crispy wontons and green onion tops.
Drizzle sauce over top.
Enjoy.
PONZU SAUCE
1/2 cup Bragg's amino acids
1/4 cup fresh orange juice
2 tablespoons fresh lemon juice
1 tablespoon water
1 tablespoon mirin (sweet rice wine)
1/8 teaspoon crushed red pepper
Combine all ingredients in a bowl.
Cover and chill.
Linked with Deb in Hawaii at Kahakai Kitchen