I originally found this recipe in a tailgating magazine, but unlike most recipe immediately changed it into what I wanted it to be.  Hubby loved it and requested it again for next week.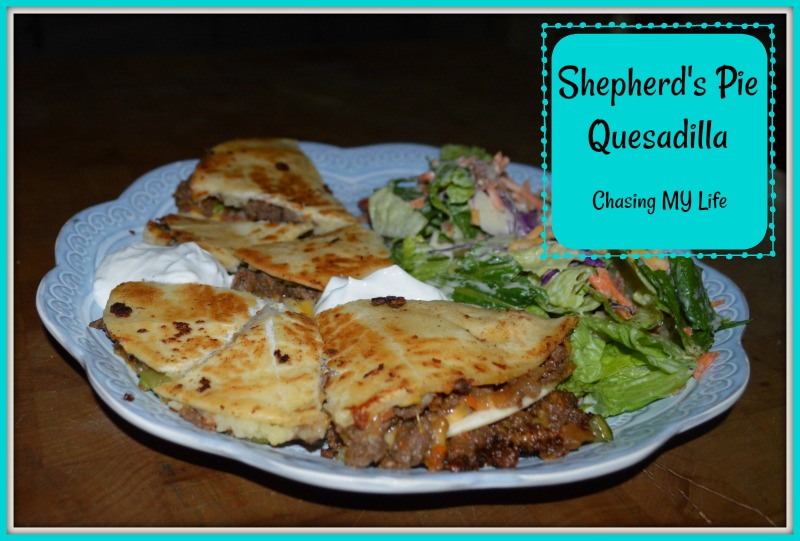 SHEPHERD'S PIE QUESADILLA with RED JALAPENO SOUR CREAM serves 4
8 small (6 inch) tortillas
1 tablespoon avocado oil
1 pound ground beef
1 Vidalia onion, chopped
2 large carrots, minced (I use the mini food processor)
1 beef bouillon cube
3/4 cup beef broth
2 tablespoons Worcestershire sauce
1 teaspoon nutmeg
Fresh ground salt and pepper, to taste
1/2 pound snap peas, trimmed and chopped
6 Yukon gold potatoes, peeled and chopped
2 + 2 tablespoons butter
1 cup grated cheddar cheese
Heat avocado oil in a large skillet.
Dissolve beef bouillon cube in beef broth and Worcestershire sauce.
Add beef, onions and carrots, stirring frequently to saute', breaking beef down into the smallest of crumble pieces.
While beef is cooking prepare potatoes in salted water until mashable.
Sprinkle with nutmeg, salt and pepper.
Add broth mixture and cook until meat is cooked through and liquid has been completely absorbed.
Add peas and cook a few minutes more. Set aside.
When potatoes are done drain off water and add 2 tablespoons butter, cream, salt and pepper, mixing well.
Assemble quesadillas with a layer of mashed potatoes, meat mixture and cheese.
Heat additional 2 tablespoons of butter and cook quesadilla until browned on each side and cheese is melted.
Cut with a pizza cutter and serve immediately with Jalapeño sour cream.
NOTE: A quesadilla maker works REALLY well.
RED JALAPENO SOUR CREAM
1 tablespoon Litehouse freeze dried Red Jalapeños
2 tablespoons beef broth
3/4 cup sour cream
Fresh ground salt and pepper, to taste
Soak red jalapeños in beef broth for 30 minutes to reconstitute. Drain well.
Fold jalapeños into sour cream and season to taste.
Linking up to FULL Plate Thursday.
Save
Save
Save
Save