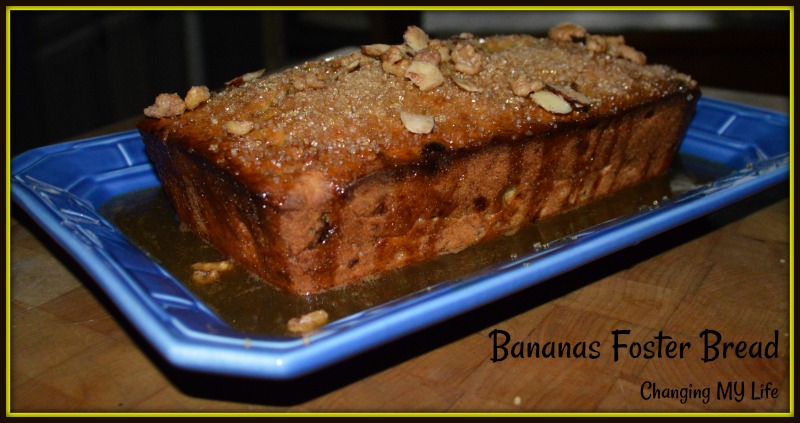 BANANAS FOSTER BREAD adapted from DAMARIS PHILLIPS
BREAD
Cooking spray, for greasing
1 2/3 cups bananas, mashed (about 4 medium RIPE)
2 eggs
1 cup granulated sugar
1/2 cup coconut oil, melted
3 tablespoons plain yogurt
1 teaspoon rum extract
1 teaspoon vanilla extract
2 cups all-purpose flour
1 teaspoon baking powder
1/4 teaspoon salt
1/3 cup chopped walnuts
1/4 cup toasted coconut
1/3 cup golden raisins (soaked in orange juice and rum and then drained WELL)
Preheat the oven to 350°.
Spray a 9-by-4-inch loaf pan with cooking spray.
Combine the bananas, eggs, sugar, coconut oil, yogurt, rum and vanilla extracts in a bowl.
In a separate larger bowl, whisk together the flour, baking powder and salt.
Make a well in the center of the dry ingredients.
Pour the wet ingredients into the dry ingredients and stir JUST until the flour is incorporated and batter is smooth.
Fold in the coconut, raisins and walnuts.
Pour the batter into the prepared loaf pan and bake until golden brown and a skewer inserted into the center of the loaf comes out clean, about 1 hour.
Remove from the oven and set aside while you make the glaze.
GLAZE
4 tablespoons unsalted butter
1/2 cup dark brown sugar
1/2 cup water
1/4 cup spiced rum
1 teaspoon orange zest
Vanilla ice cream, for serving, optional
Melt the butter in a saucepan over medium heat.
Add the brown sugar and 1/2 cup water and stir, cooking until the sugar dissolves, and then continue cooking another 3 to 5 minutes over low heat until the mixture bubbles around the edges.
Turn off the heat and carefully stir in the rum and the orange zest.
Slowly pour half of the glaze over the banana bread, allowing it to seep into all the surfaces.
Wait until the glaze has been absorbed, about 30 minutes, and then turn the loaf out of the pan.
Slice and serve with vanilla ice cream, if using, and the remaining glaze.
Linking up to FULL Plate Thursday.
Save