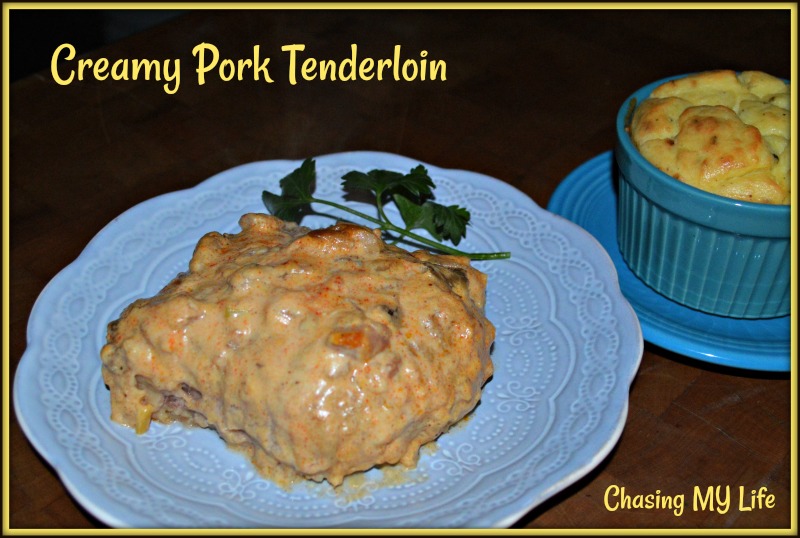 CREAMY PORK TENDERLOIN serves 4
1 pork tenderloin cut into quarters
1 egg, beaten
pinch garlic powder
pinch fresh ground black pepper
pinch fresh ground salt
1 tablespoon milk
1/2 cup Italian bread crumbs
1/4 cup Wondra flour
1 tablespoon butter
1 tablespoon avocado oil
1/2 pound mushrooms, sliced
1 can cream of chicken soup undiluted or soup substitute (recipe below)
1 cup sour cream
1/4 cup chicken broth
Preheat oven to 325°.
Place each piece of tenderloin in a ziplock bag and flatten to 1/2 inch thick.
In a shallow dish combine egg and milk.
In another shallow dish sift together the bread crumbs, flour, pepper, salt and garlic powder seasonings.
In a large skillet heat butter and oil.
Dredge each of pork in the egg mixture then the bread crumb mixture and add to skillet.
Brown on each side about 5 minutes until golden.
Transfer pork pieces to a baking dish.
Add mushrooms to skillet, sautéing until tender.
Add soup and broth, folding until smooth.
Fold in sour cream.
Pour over pork.
Cover and bake 30-45 minutes until pork is cooked through.
SOUP SUBSTITTUTE
3 tablespoons butter
3 tablespoons flour
1/4 teaspoon salt
1/4 teaspoon poultry seasoning
1/2 cup milk
1/2 cup chicken broth
Melt the butter in heavy saucepan.
Blend in flour and salt. Cook until bubbly.
Remove from heat and gradually stir or whisk in liquid.
Return to heat and cook, constantly stirring until smooth and slightly thickened.