I hope you all had a great week and weekend.  Mine was so so – just getting things done that will help hubby while I'm down, but I'm not expecting much excitement until after surgery.
This can be a stressful week for many, so let's start it with a laugh! Just remember that a turkey is JUST a BIG chicken. I'm going to do my Thanksgiving shopping this morning and then won't eave the house again!

OUTSIDE MY WINDOW & THE WEATHER OUTSIDE
We finally got a bit of a "COLD" front (at least for here) through yesterday that has lowered temperatures to the fall level finally.  I don't have many hopes for a real winter here, but would like it if the temperatures at least get down to the 60's for a high and stay there for more than 4 days!
ON THE BREAKFAST PLATE
A banana, tangerine and coffee
AS I LOOK AROUND THE HOUSE / WEEKLY TO DO LIST & HOUSE PROJECTS
LAUNDRY

… quite a few loads this week, towels, bedding and clothing – doctor has me washing things much more often trying to eliminate infection possibilities. I have to say washing the linens every other day is getting tiresome.  I never wear clothes more than one day, but sheets and towels usually get 3-4 days or so before changing them.


LIVING AREAS

… plan on doing a deep clean today and tomorrow for Thanksgiving


KITCHEN

… pretty clean, but with starting Thanksgiving prep tomorrow that

WILL

change! I do the veggie chopping and making the croutons for the stuffing on Tuesday and baking on Wednesday so I'm not doing it all on Thursday – makes it so much more stress free!  That way I can watch the parade and enjoy my coffee!


STUDIO

… is mainly storage these days so nothing going on there

YARD

… nothing much for hubby and nothing for me at all


BLOG

… still doing some recipe updating, future post planning and holiday posts scheduled, I'm also working on my ideas for Ava the elf

CURRENTLY READING & TELEVISION / DVR

BIG BANG THEORY and the new YOUNG SHELDON

NCIS, NCIS NEW ORLEANS and NCIS LA, CRIMINAL MINDS, S.W.A.T. ??

MADAME SECRETARY, SCANDAL, DESIGNATED SURVIVOR
CHICAGO FIRE, CHICAGO PD, CHICAGO MED

BRAVE, VALOR, SEAL TEAM
LAW & ORDER SVU, BLUE BLOODS, HAWAII 5-0
MACGYVER, SCORPION, BLINDSPOT, ORVILLE, WISDOM OF THE CROWD

Z NATION, WALKING DEAD, STRANGER THINGS, FLASH, DC LEGENDS, INHUMANS

THE GOOD PLACE, AMERICAN HOUSEWIFE, SPEECHLESS, GREAT NEWS

THIS IS US, ONCE UPON A TIME, THE GOOD DOCTOR, LONGMIRE

GUY'S GROCERY GAMES, BEAT BOBBY FLAY, BOBBY AND DAMARIS, GUY'S RANCH

MENU PLANS FOR THE WEEK
MONDAY

TUESDAY

WEDNESDAY

THURSDAY

FRIDAY

SATURDAY

SUNDAY

BREAKFAST

FRUIT & COFFEE

SCRAMBLED EGGS

FRUIT SMOOTHIE

FRUIT & COFFEE

WAFFLES & BACON

SHIRRED EGGS

PANCAKES

LUNCH

FRUIT & CHEESE

SOUP

MEAT ROLL-UPS

SALAD

C.O.R.N.

C.O.R.N.

C.O.R.N.

DINNER

SWEET & SOUR CHICKEN and SCALLION RICE recipe will post soon


PORK MARSALA recipe will post soon


TUNA NOODLE CASSEROLE recipe will post soon  and SALAD

SEE MENU BELOW

C.O.R.N.

C.O.R.N.

C.O.R.N.

DESSERT

 

MOLASSES CRINKLES recipe will post soon



 

REINDEER NIBBLES recipe will post soon



SUCCESSFUL RECIPE LINKS FROM LAST WEEK
HEALTH & BEAUTY TIPS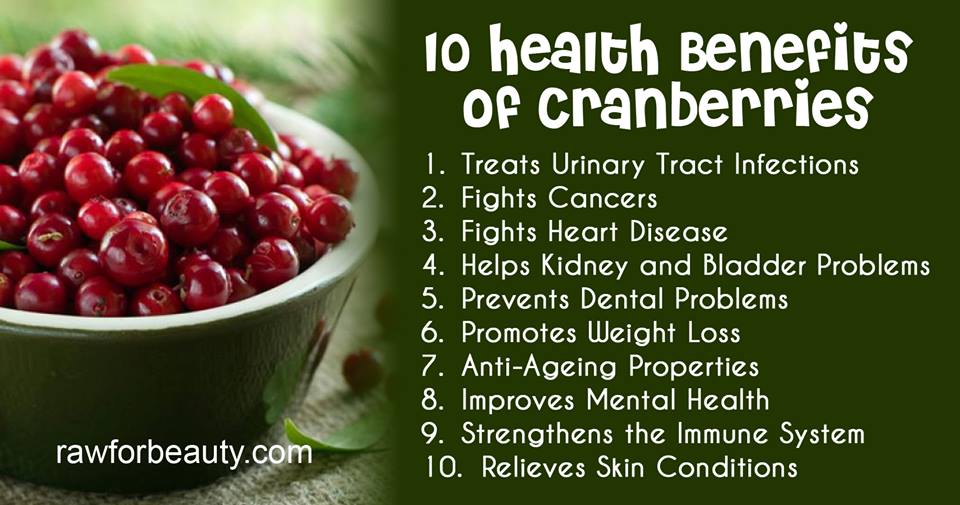 HOMEMAKING/COOKING TIP
ON MY MIND / THINGS THAT ARE MAKING ME HAPPY
Only more 16 days until surgery and I can't be happier!  I need to get this behind me and on the road to recovery! I ended up with yet another infection this past week and have been put on house "isolation" for the most part until surgery. Primarily I'm staying away from school children and elderly that may be sick or contagious, washing my hands A LOT, showering A LOT and am on 3 new eye drops to combat the latest issue. I've already been in for 2 weeks other than doctor appointments and am looking forward to get out and doing the Thanksgiving shopping this morning and after that will only leave the house on the day of pre-op at the hospital and then on the day of surgery.  It's getting old being so sequestered, but has become a necessary evil.  We even had to cancel our trip to Santa's Wonderland. 🙁 There's always next year. 😀
FAVORITE PHOTO FROM THE CAMERA

I got hubby a new stocking this year and it is really cute. Mine is an UGG red, white and green plaid that I really like too.
Then, there is Gunner, at 15 3/4 he's still trudging along, but spends most his time chasing rabbits in his sleep in his favorite bed these days.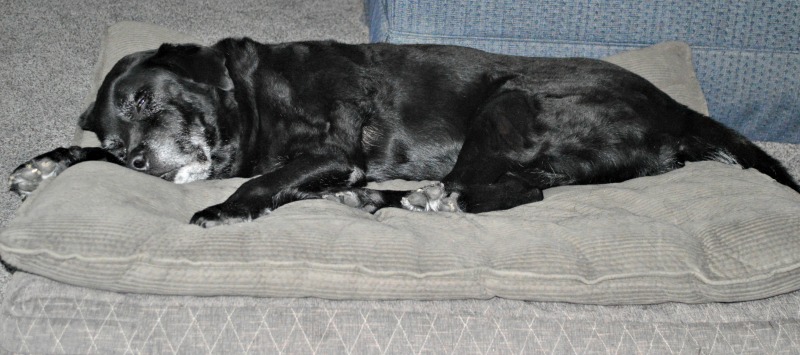 INSPIRATION
Be sure to link up with Sandra at Diary of a Stay at Home Mom for Happy homemaker Monday, Terri at Darling Downs Diaries and with Laura at I'm an Organizing Junkie for Menu Plan Monday.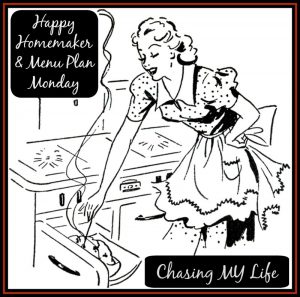 Save