BISCUITS AND SAUSAGE GRAVY BAKE
1 pound ground pork sausage
1 tablespoon avocado oil
5 tablespoons butter
1/4 cup Wondra flour
3 cups milk
FRESH ground salt and pepper
1 can Pillsbury JUMBO biscuits
1 small bunch green onions, chopped
3/4 cup shredded cheddar cheese (hubby like sharp – I prefer medium)
Preheat oven to 350°
Heat oil in large skillet over medium high heat.
Add sausage and cook until completely browned and crumbly.
Drain sausage in colander until free of oil.
Return pan to heat and add butter.
Whisk in flour until a golden roux appears.
SLOWLY add milk, whisking constantly until heated through.
Season with salt and pepper.
Add sausage pieces.
Coat 11×7 baking dish with non-stick cooking spray.
Place dish on baking pan to catch any drips.
Separate biscuits and then separate each biscuit in half so you have 16 pieces.
Place 8 halves in baking dish.
Cover with half the sausage mixture.
Sprinkle half the green onions over the sausage.
Repeat layers and sprinkle with cheese on top.
Bake 40 minutes or until golden.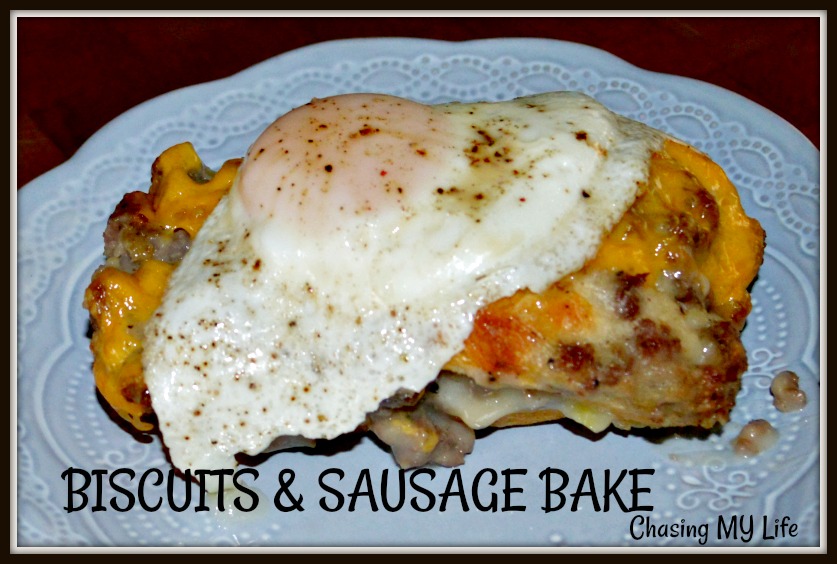 NOTE: CAN EASILY BE MADE INTO INDIVIDUAL SERVINGS & I OFTEN SERVE IT WITH AN EGG ON TOP.
Linking up to FULL Plate Thursday.