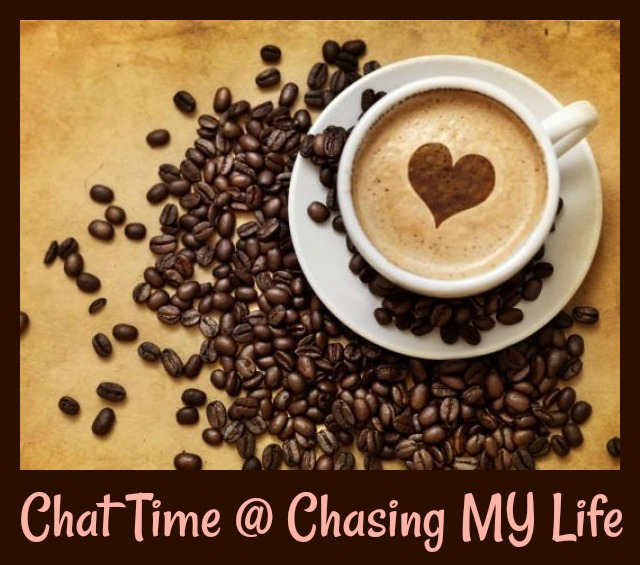 I did begin my exercising this week, but it's going slow as there are a couple complications not to mention being so weak from the excessive weight loss so fast.
For the first 6 weeks after surgery I only left the house about 3 times, twice to the surgeon for follow ups and once to church for Christmas. Our biggest fear was me catching something because of my compromised immunity, the drastic surgery and the fact that flu season is so horrible this year.  I've only been venturing out for the past 2 weeks and have been VERY cautious where I go and being around those that appear sick. BUT, somehow I managed to pick up a new infection 🙁 and are back on high dose antibiotics and have an ultrasound tomorrow for swollen glands in the back of my neck. I'm not normally paranoid, but I am to the point where I'm afraid to leave the house because I really want to get well and move forward.
I WANT MY STRENGTH & ENERGY BACK!!!
The other complication is learning to eat ALL over again – just like a baby. Food has to be reintroduced slowly and in very small quantities to test for tolerances, as well as be nice to all the suturing that took place.   I ate VERY well before this surgery because of other health conditions, but I eat even BETTER now! So when there are complications it just frustrates me beyond belief.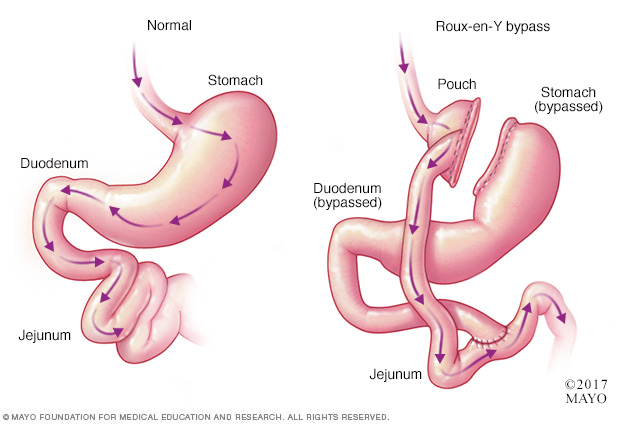 The picture above is a typical example of a stomach bypass.  Below though you'll see what mine was.  Because of the ischemic portion there was even more suturing for me.  This surgery was more challenging also because I didn't need to lose weight (well not this much – 30 pounds so far and still averaging about a 1/2 pound loss every day) so it's been a serious challenge to get enough calories and food. My FitPal account won't even post my daily results because they think it's unhealthy.
Dumping syndrome is a condition that can also develop after surgery to remove all or part of your stomach. Dumping syndrome is also known as rapid gastric emptying. Dumping syndrome occurs when food, especially sugar, moves from your stomach into your small bowel too quickly. Early dumping syndrome is likely to resolve on its own within three months and can completely go away, but it can also last for the rest of your life!
Early dumping syndrome usually occurs 10-30 minutes after eating, but symptoms can occur as early as immediately or as late as 3 hours later (late dumping syndrome). Changing your diet can alleviate the chances of developing dumping syndrome, but unfortunately during the first few months you have to experiment with your food intake to see what your personal tolerances are. Plain old sugar is the BIGGEST culprit in causing dumping syndrome.
Dumping syndrome can be severe for some. Early symptoms can include nausea, vomiting, abdominal cramps, diarrhea, flushing, dizziness, lightheadedness and rapid heart rate. Severe cases can require medication. Late dump symptoms can include sweating, hunger. fatigue, dizziness, lightheadedness, weakness and rapid heart rate.
Fortunately, for me I have only had this syndrome a half dozen times as I'm experimenting with new foods and with limited symptoms; nausea, flushing, lightheadedness and a rapid heart rate. Honestly it feels like you're having a heart attack and are about to pass out so I am VERY careful with what I eat and more importantly WHERE I eat. We went to lunch today at a popular burger place. We will never be going back for other reasons, but evidently they "sugar" their french fries as so many places do these days to make them brown better. This is assumption on my part, but all I ate was a hamburger patty with cheese, 2 tomato slices and 2 french fries and it ruined the remainder of my day when I ended up having the syndrome.