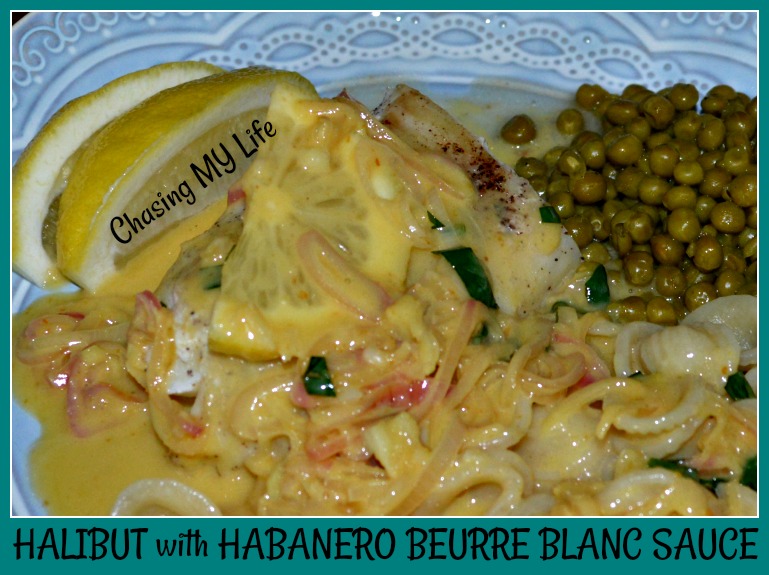 HALIBUT with HABANERO BEURRE BLANC serves 2
2-6 ounce halibut
1 tablespoon avocado oil
1 tablespoon butter
FRESH ground salt and pepper, to taste
1 clove garlic, minced
1 SMALL shallot, sliced thin
1/2 cup dry white wine (Reisling)
1 tablespoon heavy cream
2 tablespoons Humble house Habanero & Aji Amarillo Sauce
6 tablespoons salted butter, cold and cubed
lemon wedges
Heat avocado oil and 1 tablespoon butter in skillet over medium high heat.
Generously season each piece of halibut with salt and pepper. Sear each side 3-4 minutes.
While searing halibut, combine garlic, shallots and white wine in a small sauce pan over medium high heat abut 5 minutes until reduced by half.
Add Habanero sauce and cream, whisking to combine and heat through.
Reduce heat to LOW and whisk in cold cubed butter, one piece at a time until completely blended.
Plate fish and top with sauce and lemon wedges.
Serve immediately!
CELEBRATE YOUR STORY, CRAFTASTIC MONDAY, DISHING IT & DIGGING IT, NIFTY THRIFTY SUNDAY, SHOW & TELL, SUNDAYS AT HOME, SUNDAY'S BEST, THAT DIY PARTY, JCOOKING & CRAFTING WITH J&J, INPIRATION MONDAY , INSPIRE ME MONDAY , MADE BY YOU MONDAY, MAKE IT PRETTY MONDAY, MELT IN YOUR MOUTH MONDAY, MERRY MONDAY, MIX IT UP MONDAY, MOTIVATE ME MONDAY, PROJECT INSPIRED, SHOW AND SHARE, TUTORIALS & TIP , DIY TUESDAYS, LOU LOU GIRLS FABULOUS PARTY, THE SCOOP, TREASURE BOX TUESDAY, TUESDAYS AT OUR HOME, TUESDAYS WITH A TWIST, CREATIVE INSPIRATIONS, SHARE YOUR CUP , WINTER BLUES WEDNESDAY, WONDERFUL WEDNESDAY, SHOW ME WEDNESDAYS, WOW US WEDNESDAY , CREATIVE CIRCLE, DAGMAR'S PARTY, HOME SWEET HOME, FAVORITE THINGS, GRACE AT HOME, HOME MATTERS, PIN JUNKIE PIN PARTY, TALK OF THE TOWN, BLOGGER'S PIT STOP, HANDMADE HANGOUT, PRETTY PINTASTIC PARTY, SHARE IT ONE MORE TIME, SWAY SHAREFEST, WHAT TO DO WEEKENDS PARTY, BOUQUET OF TALENT PARTY, INSPIRE-BE-INSPIRED, RAE GUN BLOCK PARTY, I'M LOVIN' IT, THIS IS HOW WE ROLL THURSDAY, FULL PLATE THURSDAY, FRIDAY FOODIE