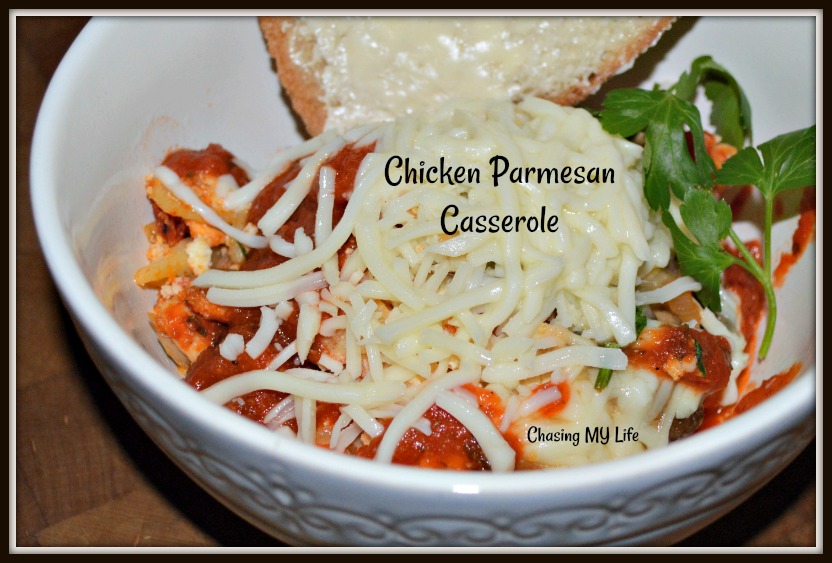 CHICKEN PARMESAN CASSEROLE
1/2 pound penne pasta
3/4 pound chicken breast, cut into bite size pieces
Wondra flour for dredging
Fresh ground black pepper and salt
1 tablespoon butter
1 tablespoon avocado oil
1/2 batch marinara sauce (recipe below)
1 1/4 cup grated Mozzarella cheese
1/2 cup grated Parmesan cheese
4 slices Provolone cheese
Preheat oven to 350°.
Spray 9×9 baking dish with non-stick cooking spray.
Cook pasta per package directions on the al dente' side. Drain and set aside.
Combine flour and seasonings in a ziplock bag.
Heat butter and oil in skillet until sizzling.
Dredge chicken pieces in flour mixture, shaking off the excess.
Add chicken pieces to hot oil and quickly sear all sides.
In a large bowl gently combine sauce and pasta with the majority of the Mozzarella and Parmesan reserving some for the top.
Gently fold in chicken pieces and stir to coat.
Spread ingredients evenly into baking dish.
Top with provolone slices followed by the remaining Parmesan and Mozzarella.
Cover with foil and bake 40 minutes.
Uncover and return to oven baking another 10-15 minutes until cheese is bubbly and brown.
Let cool 10 minutes before serving.
SAUCE
1 tablespoons avocado oil
1 tablespoon butter
1/2 small red onion, chopped
24 ounce can whole tomatoes
1 KNORR beef gel
3/4 cup moscato white wine
Juice from 1 lemon
5-6 cloves garlic, finely minced into a paste
3 tablespoons Classico sundried tomato pesto
1 teaspoon fresh ground Himalayan pink salt
1/2 teaspoon fresh ground black pepper
1/4 teaspoon fresh ground red pepper
1 teaspoon sugar
2 tablespoons fresh chopped Italian flat leaf parsley
2 tablespoons fresh chopped basil
Heat avocado oil in a large saute' pan over medium high heat.
Add onions and garlic sauteing until tender.
Whisk together the beef gel, wine, pesto and juice from the tomatoes.
Add seasonings, blending well.
Add tomatoes and gently crush.
Bring to a SLOW boil.
Reduce heat and simmer 2 hours.
Linking to CELEBRATE YOUR STORY, CRAFTASTIC MONDAY, DISHING IT & DIGGING IT, NIFTY THRIFTY SUNDAY, SHOW & TELL, SUNDAYS AT HOME, SUNDAY'S BEST, THAT DIY PARTY, JCOOKING & CRAFTING WITH J&J, INPIRATION MONDAY , INSPIRE ME MONDAY , MADE BY YOU MONDAY, MAKE IT PRETTY MONDAY, MELT IN YOUR MOUTH MONDAY, MERRY MONDAY, MIX IT UP MONDAY, MOTIVATE ME MONDAY, PROJECT INSPIRED, SHOW AND SHARE, TUTORIALS & TIP , DIY TUESDAYS, LOU LOU GIRLS FABULOUS PARTY, THE SCOOP, TREASURE BOX TUESDAY, TUESDAYS AT OUR HOME, TUESDAYS WITH A TWIST, CREATIVE INSPIRATIONS, SHARE YOUR CUP , WINTER BLUES WEDNESDAY, WONDERFUL WEDNESDAY, SHOW ME WEDNESDAYS, WOW US WEDNESDAY , CREATIVE CIRCLE, DAGMAR'S PARTY, HOME SWEET HOME, FAVORITE THINGS, GRACE AT HOME, HOME MATTERS, PIN JUNKIE PIN PARTY, TALK OF THE TOWN, BLOGGER'S PIT STOP, HANDMADE HANGOUT, PRETTY PINTASTIC PARTY, SHARE IT ONE MORE TIME, SWAY SHAREFEST, WHAT TO DO WEEKENDS PARTY, BOUQUET OF TALENT PARTY, INSPIRE-BE-INSPIRED, RAE GUN BLOCK PARTY, I'M LOVIN' IT, THIS IS HOW WE ROLL THURSDAY, FULL PLATE THURSDAY, FRIDAY FOODIE