GOOD MORNING and happy Monday!!  There are just 10 weeks left to this year and we are only 72 days away from Christmas!  So putting that all into perspective, another Monday feels like a breeze.
We spent the weekend helping my mom with a garage sale that was less than successful – just seems like no one was out and about this weekend – not sure why, but maybe the cold nights and cooler foggy mornings kept people in and just snuggling up with a good book. She was disappointed and says she'll never have another.  We tooke several car loads to Goodwill and at least she is free of all the stuff hanging out.
Besides that we did watch the NASCAR races and a couple football games while I got the laundry done and packed for our upcoming trip for a memorial and to visit some old friends.  We're going to take different routes to and from to check out some new areas to research.
Be sure to link up with
Sandra at Diary of a Stay at Home Mom for Happy homemaker Monday
and with Laura at I'm an Organizing Junkie for Menu Plan Monday.
OUTSIDE MY WINDOW & THE WEATHER OUTSIDE & WHAT I'M WEARING – We're having a bit of an Indian Summer here, but ironically it's only a few hours a day.  While we are getting to the mid 70's during the day, we are getting down into the 30's at night so it takes awhile to heat up during the day and as soon as the sun sets it's chilly again, especially with the breeze, but I'M LOVING IT!

ON THE BREAKFAST PLATE – Green tea and a banana – the experimenting will wait until we return from our next little trip.
ON MY MIND / THINGS THAT ARE MAKING ME WONDER – As you get older you really realize that life in general is a FLUID process.  And that EVERY person that enters or LEAVES your life has an indelible stamp on your ability to live and/function as you continue the journey.  Sometimes it's a friend who loses a child through a horrific disease or an aging parent that you know is inevitable, but hurts all the same or sometimes it's a sudden unexpected death that leaves you dumbstruck but every time their laughing face pops up in a facebook memory you relive it all over again… and again.

FAVORITE PHOTO FROM THE CAMERA 🙁 unfortunately the only pictures I took this week were for my mom and her leftover garage sale items that she's donating.

INSPIRATION
AS I LOOK AROUND THE HOUSE / WEEKLY TO DO LIST & HOUSE PROJECTS /  APPOINTMENTS

LAUNDRY

… all caught up


LIVING AREAS

… need a little tidying


KITCHEN

… pretty clean


YARD

… nothing much


BLOG

… some recipes I'm writing for future experimenting, holiday post planning and still editing the pictures from the San Diego Zoo trip, Disneyland and Hearst Castle to finish the posts on those trips and working on Blogmas 2018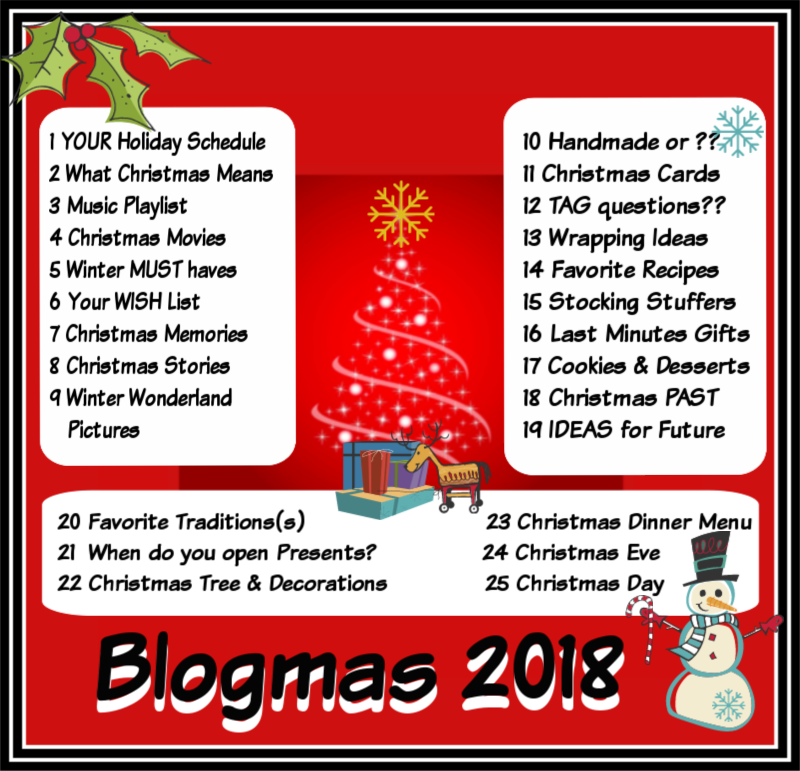 PROJECTS

… nothing til November


APPOINTMENTS

… doctor for me


TO DO

… We have a little trip planned for this week that I'll tell you all about next week.

I'M READING  Book #3 of The FIX series by Carey Heywood
WHAT IS ON THE DVR OR LIST TO WATCH

COMEDIES – Big Bang Theory, Young Sheldon, The Good Place, American Housewife
MILITARY, POLITICAL & CRIME DRAMAS and a couple that qualify as comedies – NCIS, NCIS New Orleans and NCIS LA, Criminal Minds, S.W.A.T., Madam Secretary, Seal Team, Blindspot, Macgyver, Law & Order SVU, Blue Bloods,Elementary, Chicago Fire, Chicago PD, Chicago Med, 911
DRAMAS & REALITY – The Good Doctor, This Is Us, The Resident, the Amazing Race, Dancing With the Stars, American Ninja Warrior,
SYFY – Z Nation, the Walking Dead, Fear the Walking Dead, Flash, Supergirl, DC Legends, Orville, Midnight Texas

COOKING – Guy's Grocery Games, Beat Bobby Flay, Dessert Wars, Worst Cooks in America, Kid's Baking Championship, Master Chef Jr., Master Chef, Southern at Heart, Best Baker in America
HEALTH & BEAUTY TIPS
HOMEMAKING/COOKING TIP
MENU PLANS FOR THE WEEK
BREAKFAST

LUNCH

DINNER

DESSERT

MONDAY – FRIDAY

GREEN TEA,

BANANA & YOGURT

CHICKEN or TUNA SALAD

MONDAY

ALOHA RIBS and RED CABBAGE SLAW


TUESDAY

??

WEDNESDAY

??

THURSDAY

??

FRIDAY

??

 

SATURDAY

SATURDAY

??

SUNDAY

SUNDAY


??

SUCCESSFUL RECIPE LINKS FROM LAST WEEK