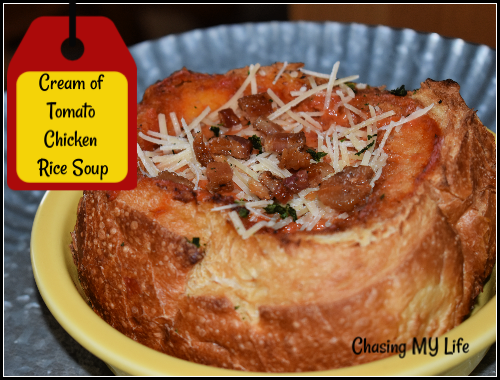 CREAM OF TOMATO CHICKEN with RICE
3 cups chicken broth
2 cups tomato puree
1 tablespoon brown sugar
1/2 cup buttermilk
1 Large shallot, finally chopped
2 tablespoons FRESH chopped basil
1 teaspoon celery salt
1 teaspoon garlic powder
FRESH ground sea salt and black pepper, to taste
2 cups rotisserie chicken pieces
1/2 cup long grain rice
Bacon Crumbles (optional)
Parmesan cheese (optional)
Bring broth and shallot to a SLOW boil.
Add tomato puree, brown sugar, rice, celery salt, garlic powder and basil.
Simmer 25 minutes until rice is tender.
Stir in buttermilk and chicken pieces until well blended.
Season to taste and simmer 10 minutes more.
Serve in a toasted bread bowl or with toasted croutons.
Sprinkle with Parmesan cheese and crumbled bacon if desired.