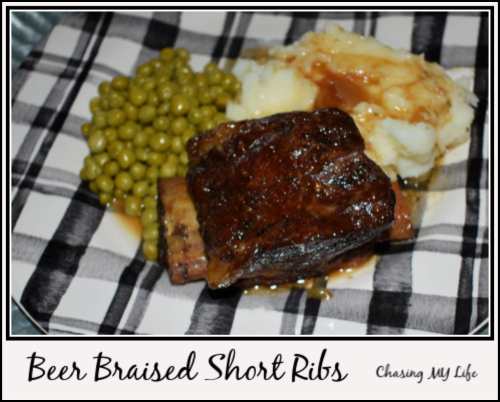 BRAISED SHORT RIBS ala TAMY adapted from ANTON & MICHEL with CREAMY MASHED YUKONS & SESAME SNOW PEAS
RIBS
3 pounds beef short ribs, about 10 ribs
Salt and freshly ground pepper
2 tablespoons avocado oil
1 large shallot, sliced
10 garlic cloves, minced
1/2 inch piece ginger, peeled and sliced into 1/4-inch slices
12 ounces Sierra Nevada Pale Ale
3 tablespoons rice wine vinegar (or flavor of your choice)
1 cup hoisin sauce
Season the ribs generously with salt and pepper.
Heat the oil in a heavy Dutch oven over high heat.
Brown the ribs on all sides, in batches if necessary.
Remove the ribs and pour off all but a couple tablespoons of the rendered fat.
Return the pot to the stove, lower the heat to medium and saute the garlic and ginger for about 3 minutes.
Add the ribs back to the pot.
Add the beer and the vinegar.
Stir well, cover and simmer for 2 1/2 hours.
Preheat the oven to 300°.
Pour the hoisin sauce over the ribs, move the pot to the oven, and cook, uncovered, for 30 minutes.
Remove ribs and ginger from sauce.
Discard ginger.
Strain fat from the top of the pot so that you're left with just the good stuff.
Serve with Creamy Mashed Yukons and Sesame Snow Peas – recipes below.
MASHED POTATOES
3 pounds Yukon gold potatoes, peeled
4 tablespoons butter, melted
1 cup half-and-half
FRESH ground salt and pepper, to taste
1 bunch chives, chopped
Boil potatoes until fork tender.
Heat the butter and half-and-half over medium heat until hot, but not boiling.
Drain the potatoes, return them to the pot and mash with a hand masher or use a ricer.
Add hot liquid to potatoes and whip with an electric hand mixer until smooth.
Season, to taste, with salt and pepper.
Add chives and mix before serving.
SESAME SNOW PEAS
1 pound snow peas
2 tablespoons avocado oil
1 tablespoon dark sesame oil
1 teaspoon sesame seeds
Salt and pepper
Rinse the peas and trim off the ends.
In a large saucepan over medium-high heat, add the oils and heat.
Add snow peas and saute until bright green, about 2 to 3 minutes.
Season with salt and pepper, to taste.
Sprinkle with the sesame seeds and toss.