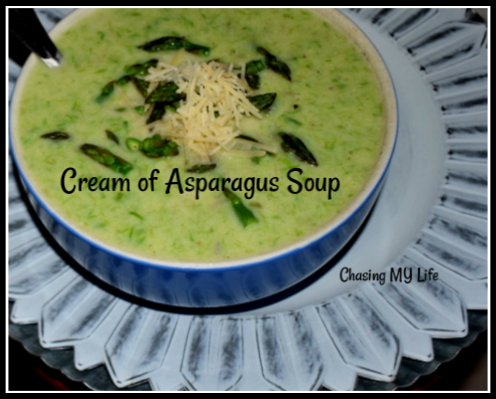 CREAM OF ASPARAGUS SOUP
1 pound of asparagus
1 cup chicken broth
1 cup water
1 teaspoon FRESH ground Pink Himalayan salt
1 teaspoon FRESH ground tri-color peppercorns
1/2 teaspoon ground coriander
3 tablespoons butter
1 large shallot, chopped
2-3 cloves garlic, minced
3 tablespoons Wondra
1 1/2 cups whole milk
1/2 cup heavy cream
Parmesan cheese for garnish
Bring water and chicken broth to a boil in a steamer.
Add asparagus to steamer basket.  Steam 4-5 minutes or until tender.
Remove asparagus and save broth, adding enough water to measure 2 cups. Set aside.
When the asparagus is cool enough to handle, trim off tops and halve the stalks in half.
Toss the tops with a pinch of salt and set aside fr garnish.
Add the stalks to food processor with 1 cup of the steaming broth. Blend until smooth.
Melt butter in large sauce pan.
Add shallot, sauteing until soft.
Add the garlic, sauteing until fragrant.
Sprinkle in flour, stirring to blend until golden.
Slowly whisk in the whole milk, heavy cream and remaining 1 cup of broth.
Stir in coriander and simmer 10-15 minutes, stirring occasionally, until mixture thickens.
Stir in asparagus puree.
Season to taste.
Top with asparagus tips and Parmesan.