This recipe was originally posted February 2010, but as I've gone through my blog I am trying to update and redo the pictures to make the recipe look more like its appetizing self! So Voila' here is an updated photo that I hope grabs your attention more!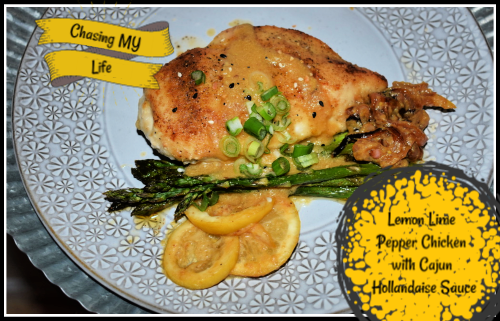 Do you watch comedies on TV? We do and this recipe was inspired by Everybody Loves Raymond. Debra's lemon chicken always being made fun of made me want to make a REALLY GOOD lemon chicken full of flavor. This recipe is it! This picture below is from 2014 and I have eliminated the pictures from 2010 as they were atrocious.
4-6 boneless, skinless chicken breast
Wondra
1 lemon
1 lime
sea salt and white pepper to taste
1 teaspoon red chile pepper flakes
1/4 cup Cream Sherry or 1 tablespoon sugar
2 tablespoons butter
2 tablespoons Avocado oil
1 small Vidalia onion, sliced thin
1 clove garlic, minced
In a large skillet melt butter, add oil and bring to medium high heat.
Add onions and garlic until fragrant.
Dredge chicken breast in flour.
Move onions to outside ring of the pan.
Add chicken pieces salt & peppering as you brown them (about 5 minutes per side)
While chicken is browning, roll lemon and lime on the counter to loosen pulp and juice.
Plate chicken and keep warm.
Add cream sherry to deglaze pan, scrapping up the bits at the bottom.
Dissolve the sugar into the lemon and lime juice. Add red pepper flakes.
Pour over onions and cook a few minutes more until juice forms a glaze.
Pour over plated chicken and serve immediately.