This is one of those recipes that I LOVE(d)! BUT had to rework to lower the sugar so I could have just 1 bite! I now cut them into really small squares so they are easier for me to eat without a reaction and they actually last longer too 😀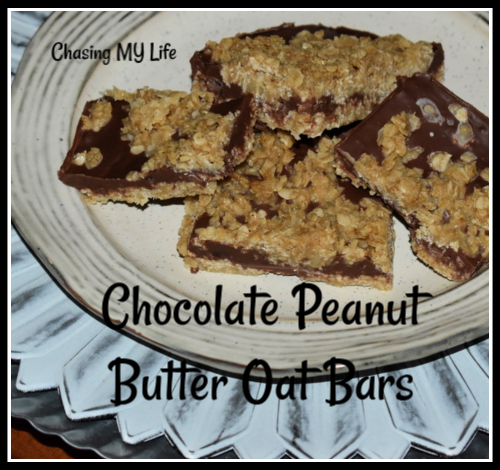 Here's the original recipe that I believe came off the box of graham crackers many moons ago.  I will follow it with the "NEW" recipe with a much reduced sugar.
MAGIC CHOCOLATE PEANUT BUTTER BARS
2 1/2 cups crushed Honey Maid graham cracker crumbs
1 cup melted Land O' Lakes unsalted butter
1 cup Jif creamy peanut butter
2 1/2 cups powdered sugar
1 cup milk chocolate chips with 1 teaspoon butter
In a LARGE mixing bowl, stir together the butter, peanut butter and powdered sugar.
Fold in graham cracker  crumbs.
Press into a greased 9 x 13 inch pan.
Place the chocolate chips and butter in a measuring cup and microwave, stirring every 30 seconds, until chocolate is melted and smooth.
Spread the chocolate over the peanut butter layer.
Place in the refrigerator until set.
Cut into bars and serve.
AND the new recipe:
CHOCOLATE PEANUT BUTTER OAT BARS
1 cup butter
1/3 cup packed brown sugar
Pinch of salt
1 teaspoon vanilla
3 1/2 cup quick cooking oats
1 1/4 cup semi-sweet chocolate chips (milk chocolate chips work well too)
3/4 cup peanut butter
Lightly grease a 9-inch square pan, or line with parchment paper.
In a large saucepan over medium heat, melt butter.
Stir in brown sugar, vanilla and salt.
Mix in the oats. Cook and stir over low heat for 2-3 minutes, until ingredients are well combined.
Press half of the oat mixture into the prepared pan. Reserve the rest for topping.
Melt chocolate chips and peanut butter in a small saucepan over low heat, stirring frequently until smooth.
Pour the chocolate mixture over the oat layer in the pan and spread evenly.
Sprinkle the remaining oat mixture over the chocolate layer and press in gently.
Cover and refrigerate for 2 hours or until firm enough to cut.
Cut into bars and serve at room temperature.
NOTE: If you are in a real hurry fold the chocolate mixture into the oat mixture before pressing into the pan.  Personally this is my favorite way to make this as it distributes the flavors better.