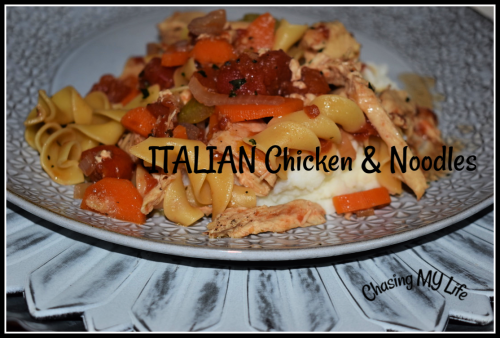 ITALIAN Chicken and Noodles
1 1/2 pounds chicken breasts or tenders
1 medium Vidalia onion, finely chopped
2 medium tomatoes, finely chopped *see notes
1 1/2 cups of finely chopped carrots
3/4 cup chopped celery
1 bay leaf
1 teaspoon Sweet paprika
3 cloves garlic, minced
1 tablespoon butter
1 tablespoon avocado oil
FRESH ground sea salt and black pepper
1/3-1/2 cup chicken broth
Prepared noodles
Prepared mashed potatoes (noodles AND mashed potatoes were grams AND great grams way favorite way of serving this)
In a large sauce skillet, melt butter and avocado oil.
Add generously seasoned chicken pieces. Pan sauce 2-3 minutes per side until JUST cooked through. Remove to cutting board for shredding.
Add carrots, cooking until they begin to soften.
Add celery and onions.
Add tomatoes, bay leaf, paprika and minced garlic.
Add in chicken broth, stirring to blend.
Reduce to a simmer for 15-20 minutes, stirring occasionally, until carrots are cooked through and tender. If gravy is too thin, see notes.
Remove bay leaf, add in chicken pieces and heat through.
Fold in noodles.
Serve over mashed potatoes immediately.
NOTES:
A can of petite diced tomatoes can easily be substituted.
If it is too thin, then make a slurry from a tablespoon or 2 of the gravy and a tablespoon or 2 of cornstarch. Add into the pan, stirring constantly, but gently to blend until you reach the desired consistency.
Great grams always started with a whole chicken and would boil it down to pieces and use the cooking water as the broth which adds white a bit of flavor.