Caramel Apple Pie Bombs are a version of Monkey Bread that SCREAMS YUMMY!  The beauty of this recipe is the ease of changing up flavors by changing the seasonings (Pumpkin Pie seasoning and pears or cherries and a little vanilla or black peppercorns and a cream cheese glaze) as well as baking it as either a pull apart bread or individual rolls just as easily.  As you pull one open and a river of sweet caramel runs out over the apple pieces you know you've found heaven.  😀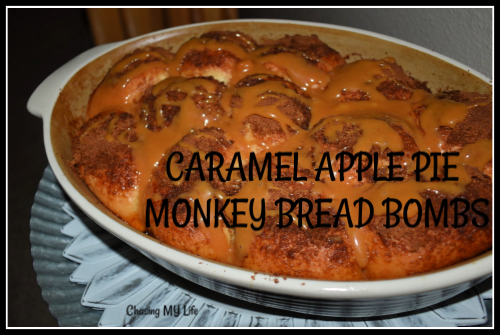 CARAMELS APPLE PIE MONKEY BREAD BOMBS adapted from the Slow Roasted Italian
BOMBS
4 tablespoons melted unsalted butter, divided
2 medium Granny Smith apples, peeled cored and diced
1/3 cup brown sugar, packed
1 tablespoon QUALITY ground cinnamon
1 teaspoon ground nutmeg
18 caramels, unwrapped and divided
12 frozen Rhodes dinner roll dough balls, defrosted
Preheat the oven to 350°.

Melt 2 tablespoons of the butter in a 9×9 baking dish.  Set aside.

Combine the apples, 2 tablespoons of the brown sugar and 1 tablespoon of the cinnamon in a ziploc bag.  Toss to coat.  Set aside.

Unwrap the caramels and cut into quarters. Set aside.

Melt remaining butter in a small bowl.
Mix together the remaining brown sugar, nutmeg, and cinamon in another small bowl

Lightly flour your counter top.

Using a rolling pin flatten each dough ball into a circle about 3 inches across.

Add 1 tablespoon of the apple mixture and 6 of the cut caramel pieces.

Carefully pull each side over the center to create to seal and then roll the dough into a ball. Be careful not to make it too thin.  You do NOT want to be able to see through the dough.
Roll each ball in the remaining melted butter and then the cinnamon mix before placing seam side down in the baking dish.

Sprinkle with any of the remaining cinnamon brown sugar mix.

Bake the bombs for 30 to 35 minutes, until the tops are golden brown and they are no longer doughy.
SAUCE
12 caramels, unwrapped
2-3 tablespoons heavy cream
Place the caramels and the heavy cream in a microwave safe bowl and microwave until melted, 30 seconds at a time, stirring after each interval.

Once you have a smooth mixture, set aside to cool.

Remove the apple pie bombs from the oven and drizzle with the caramel sauce.

Serve and enjoy!