Sweet apricots, zesty marinated artichokes add tons of flavor to this marinated sheet pan chicken dinner.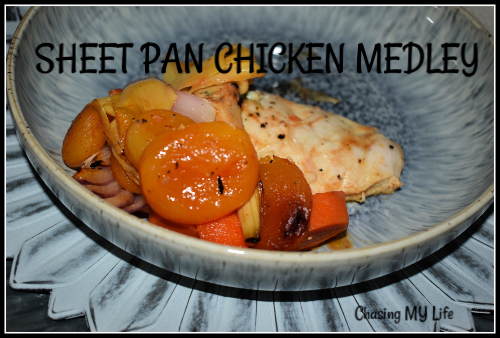 SHEET PAN CHICKEN MEDLEY
2 1/2 pounds (4) skinless, boneless chicken breasts cut into LARGE chunks
4 tablespoons Avocado oil, divided
ZEST and Juice of 1 lemon
2 cloves garlic, minced
FRESH ground Himalayan Sea Salt and black pepper, to taste
1 teaspoon ground fennel
1 teaspoon dried basil
2 tablespoons tomato paste
2-3 large carrots, diagonally sliced
2 LARGE red onions, cut into wedges
1 jar marinated artichoke hearts
1 -2 cups dried apricot halves
1 – 6 ounce can pineapple orange juice
In a large bowl combine 1 tablespoon of the avocado oil, lemon juice, lemon zest and garlic.
Generously season chicken pieces with FRESH ground Himalayan sea salt and black pepper.
Toss chicken breasts in marinade and let stand 30 minutes at room temperature.
In a separate bowl add apricot halves, juice and artichokes, tossing to mix.  Let stand at least 30 minutes or more to plump apricot pieces. I usually let it stand all day.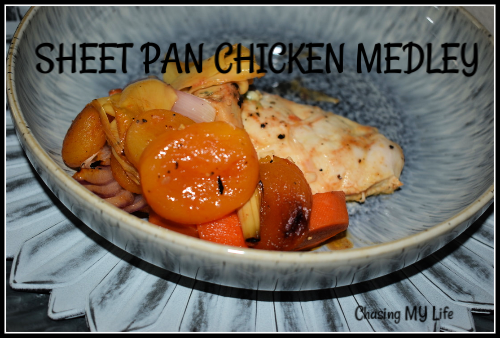 Heat oven to 400°.
Coat a sheet pan covered in foil with non-stick cooking spray.
In a large bowl combine the basil, fennel, tomato paste and remaining avocado oil.
Season with FRESH ground Himalayan Sea Salt and black pepper, to taste.
Pour half into a second bowl. Add the onion wedges, apricots and artichoke hearts, tossing to coat, set aside.
Add carrots to the marinade in the first bowl, tossing to coat.
Arrange carrots on the sheet pan.
Roast carrots for 15 minutes.
Add in chicken pieces in a single layer.
Top with the apricot mixture.
Roast 30-35 minutes until chicken is cooked through to 160°.