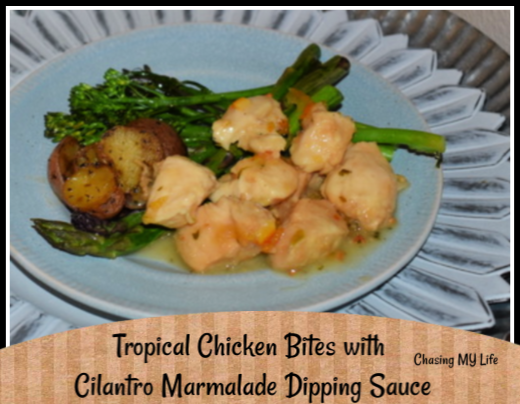 TROPICAL CHICKEN BITES with ORANGE MARMALADE DIPPING SAUCE
2 pounds boneless, skinless chicken breast, cut into bite size cubes
1 1/2 cups chopped cashews
1/3 cup cornstarch
1/2 cup sesame seeds
MARINADE
1/4 cup cream sherry
1/4 cup Bragg's liquid aminos
1 tablespoon sesame oil
6 ounces pineapple juice
Zest and Juice of 1 LARGE lime
Zest and Juice of 1 LARGE lemon
2 cloves garlic, minced
Whisk together the sherry, liquid aminos, sesame oil, pineapple juice, lemon and lime juice.
Add lemon zest, lime zest and garlic.
Stir in chicken cubes, tossing to coat.
Cover and refrigerate for at least 2 hours.
Preheat oven to 375°.
Cover baking sheet with foil and spray with non-stick cooking spray.
Add chopped cashews, cornstarch and sesame seeds to food processor and process until the mixture resembles small pebbles. Transfer to a shallow bowl.
Drain chicken, reserving marinade.
Dredge chicken cubes in cashew mixture to coat evenly.
Place cubes on baking sheet.
Drizzle with reserved marinade.
Bake 10 minutes until chicken is cooked through.
Serve over mashed potatoes, rice, pasta or with roasted veggies.
SAUCE
16 ounces orange marmalade
1/4 cup creamy horseradish
4 tablespoons chopped cilantro
In a saucepan heat the marmalade JUST until melted.
Stir in horseradish and cilantro.
Toss with chicken pieces and serve immediately
NOTE: You can also make this with chicken tenders, but we like having the sauce coat all the small pieces 😀