This recipe is perfect for the FULL family weekend where you want to spend more time with the family than in the kitchen. This can be made well in advance and just be popped into the oven when needed. It's the perfect recipe for either brunch OR supper! I adjusted the flavors from the original to our liking, but ALSO think that next time I will cut the bread into chucks and do it more like a bread pudding.
CHICKEN BACON APPLE STRATA
3/4 pound bacon, chopped
8 slices thick sandwich bread
2 Granny Smith apples, peeled, cored and sliced thin
1 cup shredded sharp cheddar cheese
1 1/2 cups shredded rotisserie chicken
1 1/2 cups whole milk
4 large eggs
FRESH ground salt and pepper
3/4 teaspoon creamy horseradish
1 tablespoon unsalted butter
1/2 cup grated Parmesan cheese
Cook bacon until crispy. Drain on paper toweling.
Spray a 10 inch spring form pan with non-stick cooking spray.
Arrange 4 slices of bread in the baking dish, cutting bread as necessary to form a single layer.
Arrange half the apples over the bread layer followed by the bacon pieces and cheddar cheese.
Top with chicken pieces in an even layer.
Top with remaining apples followed by the remaining.
Top with remaining bread slices.
Whisk together the milk, eggs, horseradish, salt and pepper. Pour over bread tops, pressing to submerge the bread into the egg mixture.
Cover with saran and refrigerate at LEAST 8 hours.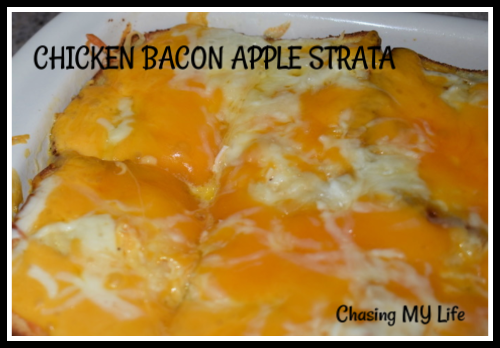 Preheat oven to 350°.
When ready to bake, top with the melted butter.
Sprinkle with Parmesan cheese.
Bake 45-60 minutes until strata is puffed and golden brown.