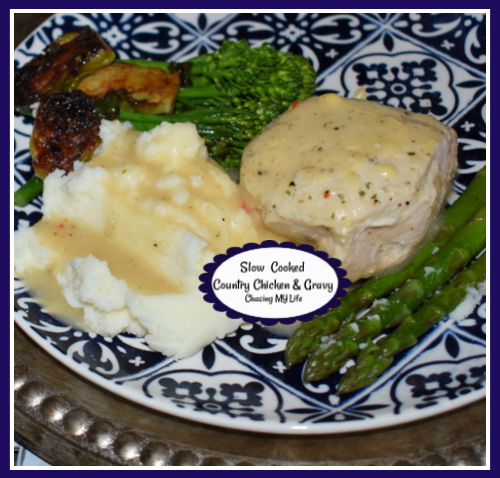 SLOW COOKED COUNTRY CHICKEN & GRAVY
Slow cooked Country Chicken and Gravy is TRULY what easy comfort food is all about!! It is  absolutely ahhh-mazing!
2 pounds boneless, skinless chicken breasts
1 packet DRY chicken gravy mix
1 packet DRY Good Seasons Italian Dressing Mix**(see notes)
1 – 10 oz. can cream of chicken soup**(see notes)
1 3/4 cups water or chicken broth**(see notes)
FRESH ground black pepper
Empty the gravy packets, cream of chicken soup, water and pepper in a slow cooker.
Whisk until the gravy is smooth.
Add chicken breasts in a single layer if possible.
Cook on low for 3-4 hours.
Serve over rice, pasta or mashed potatoes
NOTES:
You can interchange this packet for just about ANYTHING and get an entirely NEW dish. Try Hidden Valley Ranch, Pioneer Peppered Gravy or Lipton French Onion soup.
Try changing out the soup flavor also for a new and inventive flavor combination. Use cream of potato or cheddar cheese…
The chicken is so tender you can fork shred it into the sauce and make an entirely different dish!  Try adding some carrots or peas for color.
I usually have homemade chicken broth around and I prefer that over water. If I use broth I change this to 2 cups as the homemade broth has more body than store bought.
You can also add a quick cornstarch slurry at the end if you need to thicken up the sauce.