GOOD MORNING I hope everyone had a wonderful week!  OH NO it's July already!  The year is officially half over! LEON day (exactly 6 months between Christmases) was last week and we are officially on a downhill road to the holidays!  That said, there is still plenty of summer to go around and I hope you have some fun trips and vacation plans as we head into the long 4th of July weekend.

Be sure to join us and link up with
Sandra at Diary of a Stay at Home Mom for Happy homemaker Monday
and with Laura at I'm an Organizing Junkie for Menu Plan Monday.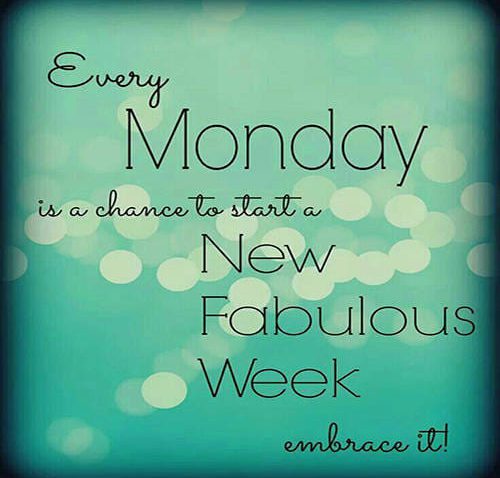 OUTSIDE MY WINDOW & THE WEATHER OUTSIDE & WHAT I'M WEARING Last week we had some fast moving and fantastic thunderstorms that brought in much cooler weather too.  This week not so much, we're supposed to get quite warm again and be sunny all week.


ON THE BREAKFAST PLATE The new doctor has at least assigned a name to my newest health issue.  Retroactive hypoglycemia.  Unfortunately, it does not have an easy fix, instead it puts me into a vicious never ending cycle of low blood sugar and needing to eat, but being unable to do so.  He has said the same thing as the gastroenterologist – there just isn't much data for patients that ended up with this procedure when they didn't need to lose weight to begin with and we'll just have to experiment.  So, breakfast is back to hot water and baby food again most days with 2 hour grazing of a bite or 2 here and there. 🙁

AS I LOOK AROUND THE HOUSE, WEEKLY TO DO LIST, HOUSE & CRAFT PROJECTS, APPOINTMENTS

LAUNDRY, LIVING AREAS & KITCHEN…

I hadn't done laundry all week and needed a distraction after we were finished Saturday so I got all caught up at once as well as some tidying up after the weekend



YARD…

hubby is working on updating the gate repairs




APPOINTMENTS & TO DO…

paperwork, phone calls to set up new appointments
BLOG…

still working on some recipe work ups on new recipes and a few updates and new pictures on some older ones



CRAFTS/PROJECTS… I have been working on a plan for the garland I'm assembling and actually got the pieces together all in one place

AND

got a picture taken.  Now just to get it started finally.  I'm going to be making this in 8 foot lengths that will get clipped together as needed with some decorative star clips.

I'M READING Love Among Lavender The Merriams #2 by Ava Miles
WHAT IS ON THE DVR, I LIKE OR ON THE LIST TO WATCH in NO particular order

The Good Witch


The Great American Food Truck Race

Guy's Grocery Games

Beat Bobby Flay

Reef Break

Elementary

MasterChef
FAVORITE and SADDEST PHOTOS FROM THE CAMERA We spent last week helping our friends and neighbors move to their new house, which BTW we can drive to in 2 minutes time, but it was still SUPER bittersweet.  They lived in this house for 13 years and had brought each and every munchkin home to this house as a baby so there was A LOT of sentimentality attached. Needless to say Saturday was a bittersweet day for EVERYONE and many tears were shed.  We're super sad to see them go, but ALSO super excited for them in their new home and can't wait to see how they make it their own. The munchkins have even picked out their room colors and painting will begin soon 😀

INSPIRATION

HEALTH & BEAUTY TIPS
HOMEMAKING/COOKING TIP
MENU PLANS FOR THE WEEK
MONDAY – CHURCH SUPPER RING & SALAD with BALSAMIC VINAIGRETTE
TUESDAY – PORK TENDERLOIN with BOURBON PEACH SAUCE & BROCCOLI
WEDNESDAY – C.O.R.N. & PEACH COBBLER
THURSDAY – BBQ
FRIDAY – CREAMY CHILI CHICKEN & VEGGIES
SATURDAY – RICOTTA MEATBALLS with NOODLES and GRAVY & CUCUMBER SALAD
SUNDAY – HAM STEAK with RED EYE GRAVY & SALAD with ASIAN SESAME VINAIGRETTE
SUCCESSFUL RECIPE LINKS FROM LAST WEEK
FEATURED PARTY LINKS FOR THIS WEEK