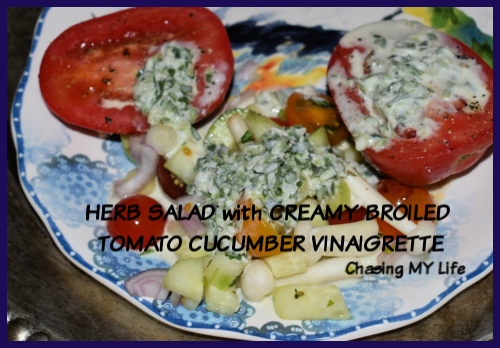 HERB SALAD with CREAMY BROILED TOMATO CUCUMBER VINAIGRETTE
MAKE THIS STEP 1-2 HOURS BEFORE YOU NEED THEM!
PICKLED ONIONS
1 teaspoon avocado oil
1 tablespoon rice wine vinegar
FRESH ground salt and pepper
1/2 SMALL red onion, cut into rings
In a medium skillet heat avocado oil over medium-high heat.

Add onion pieces and saute' for a minute.

Add vinegar, tossing to coat and remove from heat.

Transfer onions to a small plate and let stand 1-2 hours.
"SALAD"
2 tablespoons FRESH chopped Italian Parsley
1 tablespoon FRESH chopped dill
1 tablespoon FRESH chopped basil leaves
1 tablespoon FRESH chopped tarragon
1 LARGE English cucumber or 2 small cucumbers, peeled, seeded and diced
1 cup halved cherry tomatoes
1 bunch beech mushrooms, cleaned and separated
1 small bunch green onions, sliced thin
1 small red onion, chopped
Toss all together in large salad bowl and set aside until needed.
VINAIGRETTE
Reserved cucumber peels
2 cloves garlic, finely minced
1 small shallot, minced
1/4 cup rice wine vinegar
1/4 cup sour cream
1/4 cup buttermilk
1 tablespoon avocado oil
FRESH ground sea salt and black pepper, to taste
pinch cayenne pepper
In a small food processor blend reserved cucumber peels, garlic, shallot, vinegar, sour cream, buttermilk, oil and seasonings until smooth.
Pour over salad and toss gently.
Let stand 15-20 minutes and allow flavors to meld.
Adjust salt and pepper as necessary.
BROILED TOMATOES
4 LARGE Roma tomatoes, halved or quartered
Preheat broiler.
Place tomatoes on baking sheet skin side down.
Season well with FRESH ground salt and pepper.
Broil 2-3 minutes until browned and bubbly.
ASSEMBLY
Place a large spoonful of salad mixture in bowl or on plate.
Drizzle with vinaigrette.
Set 2 broiled tomato pieces next to salad.
Top with pickled onions.

**

Serve immediately.
NOTE** I often toss the pickled onions with the salad mixture JUST prior to serving.