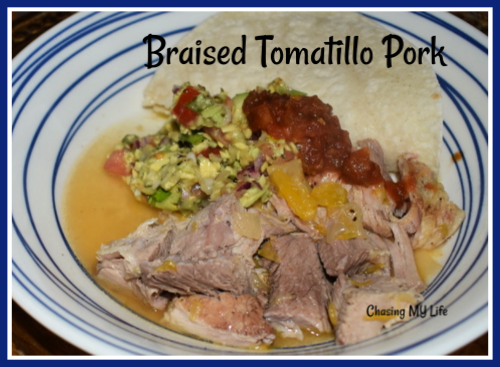 BRAISED TOMATILLO PORK serves 6-8
3-4 pound bone-in pork shoulder roast
1 tablespoon FRESHLY toasted coriander seeds
1 tablespoons FRESHLY toasted cumin seeds
FRESH ground sea salt and black pepper, to taste
1 tablespoon avocado oil
10-15 tomatillos, husks removed and chopped
1 medium Vidalia onion, chopped
2-3 cloves garlic, minced
1 orange, peeled and cut into small segments
1 cup white wine
6 cups chicken broth
Crush coriander and cumin seeds in a mortar and pestle until aromatic. Set aside.
Generously season pork roast with FRESH ground salt and pepper.
Preheat oven to 350°.
Heat oil in an ovenproof dutch oven over medium high heat.
Brown pork roast on all sides. Remove roast and set aside.
Add tomatillo and onion pieces to pan, sautéing until tender and tomatillos are slightly charred.
Add garlic and crushed coriander and cumin seeds. Cook 1 more minute until fragrant.
Add wine, stirring to combine. Scrape bits from bottom of the pan.
Stir in chicken broth and return roast to pan.
Bring to a boil.
Remove from heat, cover and bake 3-3 1/2 hours until pork is tender.
Shred pork into sauce.
Serve over creamy masked potatoes, polenta or with tortillas, avocado salsa and sour cream.