All this started because one of my favorite munchkins brought me a cabbage from her class. 😀 It was this straggly looking thing, but then it grew and grew and grew into a HUGE head that I was able to make 3 meals from 😀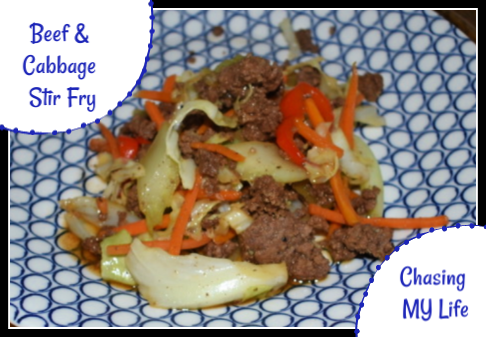 BEEF & CABBAGE STIR FRY
1 Pound ground beef
1/2 sweet red bell pepper, chopped
3 cups Shredded Cabbage
1 1/2 cups shredded carrots
1 tablespoon avocado oil
1 medium Vidalia onion, diced
2 garlic cloves, minced
1/4 cup Bragg's liquid aminos
2 teaspoona Siracha (more or less depending on your preference)
2 teaspoon Ginger, minced
2 tablespoons QUALITY Honey
2 tablespoons apple cider vinegar
1 tablespoon Worcestershire sauce
1 tablespoon Sesame Oil
FRESH ground salt & pepper to taste
In a large frying pan heat the olive oil over medium high heat.
Saute the onions with the ground beef. Drain WELL.
Add in garlic, carrots & red peppers.
Whisk together the liquid aminos, Siracha, honey, vinegar, ginger, salt and pepper. Set aside.
When the beef is browned and the peppers and onions are soft, add in the cabbage
Once cabbage has slightly wilted, add in the soy mixture, mix well and allow to cook about 5 minutes, remove from heat.
Add in the sesame oil and toss well.
Serve over rice, mashed potatoes or by itself!
ENJOY!