GRILLED GENERAL TSO's CHICKEN
4 pounds of your favorite chicken pieces (we like legs and thighs) 😀
3 tablespoons Bragg's Liquid Aminos
3 tablespoons avocado oil
1/4 catsup jalapeno ketchup
3 tablespoons light corn syrup
2 tablespoons apple cider vinegar
2 cloves garlic, finely minced
1/2 – 1 teaspoon crushed red pepper flakes
1/2 teaspoon FRESH ground sea salt
LARGE bunch green onions, sliced for garnish
Sesame Seeds, to garnish
Whisk together the liquid aminos and oil.
Pour into a large ziploc bag.
Add chicken pieces, seal and chill 2 hours.
Whisk together the ketchup, corn syrup, vinegar, garlic, crushed red pepper and salt until smooth. Set aside.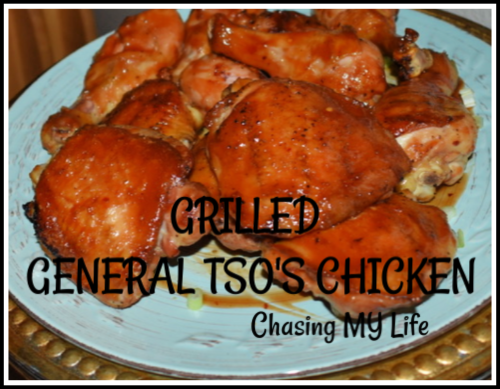 Drain chicken and discard marinade.
Pat chicken dry.
Preheat gas grill.
Oil grates.
Place chicken on grill, skin side down.
Grill 10 minutes uncovered on the hot side of the grill, rotating (NOT flipping) often to avoid burning, until skin is crispy.
FLIP chicken to cooler side of the grill, cover and continue grilling 30 minutes or so until you reach 165°.
Brush chicken with sauce during last 5 minutes.
Arrange chicken on platter.
Sprinkle with sesame seeds and green onions.
Serve with remains sauce.