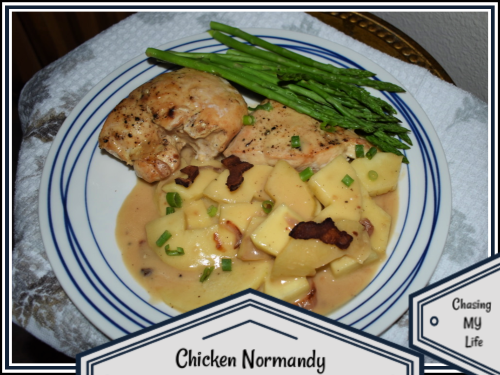 CHICKEN NORMANDY aka ESCALOPE DE POULET ALA NORMANDE
You are going to LOVE this wonderful classic, though updated, French chicken dish from France. Apples are quite prominent in the Normandy region of France and are quite good in both sweet and savory as you'll see from this recipe.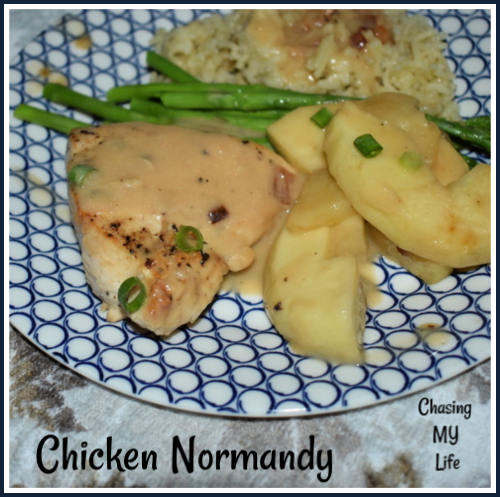 2 pounds (4) boneless, skinless chicken breasts
1 tablespoons butter
1 tablespoon avocado oil
1 LARGE shallot, diced
8 ounces BEECH mushrooms
1 LARGE garlic clove, minced
¼ cup WONDRA flour
½ cup chicken stock (I prefer homemade)
1 cup apple cider
Juice of 1 LARGE lemon
¼ cup brandy
1 LARGE Granny Smith apple, washed, cored and chopped
¼ teaspoon FRESH ground sea salt and black pepper
¼ cup heavy cream
In a small bowl combine lemon juice and just enough water to submerge the apple pieces.
In a large skillet heat avocado oil over medium high heat.
Generously season chicken breasts with FRESH ground sea salt and black pepper.
Sear over medium high heat until lightly golden on all sides. Remove the chicken from the pan and set aside, keeping warm.
Add butter to the pan and reduce the heat to medium.
Add shallots and sauté for 4-5 minutes, until golden.
Add the mushrooms and garlic. Sauté for 2-3 minutes, until the mushrooms are golden.
With a slotted spoon, remove onions and mushrooms from the pan.
Add the flour. Mix well until the flour is moistened. Return the pan back to the heat.
Add the stock to de-glaze the skillet, scraping up any stuck bits.  
Add the apple cider and brandy, blending well.
Add the cream and blend well, turning the chicken to coat.
Drain the apples.
Return the chicken to the pan, nestling them among the onions and mushrooms.
Nestle apple pieces into pan also.
Adjust the salt and pepper to taste.
Simmer, uncovered, for 20 minutes over medium low heat until the sauce has thickened to your liking and chicken is completely cooked through.