These are super quick and deliciously flavorful making them great for weeknight dinners!!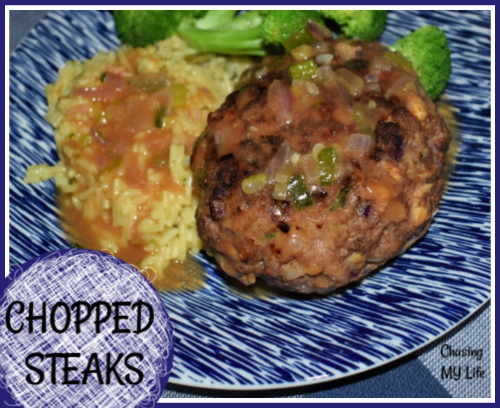 CHOPPED STEAKS
1 1/2 pounds lean ground beef
2 eggs
1/4 cup minced shallots
1 tablespoon Worcestershire sauce
2 cloves garlic, minced
1/2 cup crushed saltine crackers
FRESH ground sea salt and black pepper
avocado oil
Preheat oven to 400°.
Combine everything except the meat until well blended.
Add the meat and mix well.
Shape into 4 patties.
Heat oil over medium-high heat.
Add patties and sear until browned.
Flip and move pan to the oven for 15-20 minutes.
Transfer steaks to platter and tent with foil.
GRAVY
2 tablespoons butter
8 ounces sliced mushrooms
1/4 cup minced shallots
1/4 cup minced Italian Parsley
2 tablespoons WONDRA flour
2 cups beef broth
Add butter to the pan you cooked the steaks in.
When butter is melted add shallots and mushrooms, sauteing 8-10 minutes.
Sprinkle flour over the onion mixture and stir well.
Add broth and blend well.
Cook 3-5 minutes until desired thickness.
NOTE:
Hubby hates mushrooms. So, many times I omit the mushrooms and double the shallots or add green onions and it tastes just as great!
If gravy doesn't thicken as much as you would like, add a small amount of cornstarch slurry.