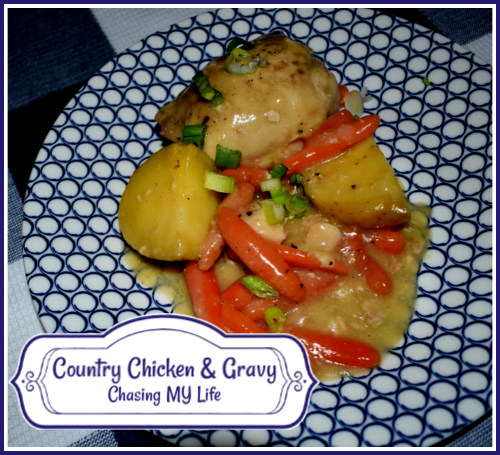 COUNTRY CHICKEN & GRAVY
1/2 cup all purpose flour
FRESH ground sea salt and black pepper
2-3 pounds boneless, skinless chicken breasts or tenders
4 tablespoons unsalted butter
1 small Vidalia onion, chopped
2 stalks celery, diced
1 cup baby carrots
3 cups chicken broth (preferably homemade)
1/2 cup heavy cream
chopped Italian Parsley for garnish
Prepared mashed potatoes
Combine flour, salt, paprika and pepper in a large Ziploc bag.
Coat chicken pieces in flour mixture and reserve flour mixture for later.
In a deep skillet melt butter over medium heat.
Add chicken and cook 2-3 minutes per side until lightly browned.
Transfer chicken to a plate and set aside.
Add onion and celery to pan, sautéing 2 minutes.
Add remaining flour to pan and whisk until all flour is absorbed.
Add chicken broth, stirring well.
Add chicken, cover and simmer 15-20 minutes until cooked through and fragrant.
Taste and adjust seasonings as necessary.
Stir in cream and cook 2 minutes.
Serve over mashed potatoes.
Garnish with parsley.