This is my new GO TO recipe!  SO SO Good!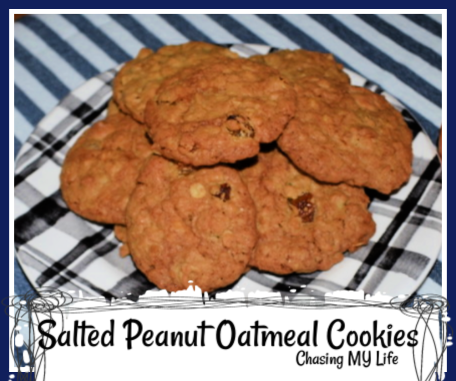 SALTED PEANUT OATMEAL COOKIES another ANTIQUE RECIPE yields 5 dozen cookies
1 cup sugar
1 cup brown sugar
1 cup shortening (crisco stick) (next time I'll use half crisco stick, half butter)
3 LARGE eggs (next time I'll only use 2)
1 teaspoon PURE vanilla
1 ½ cup flour
1 teaspoon baking soda
1 teaspoon baking powder
3 cups oatmeal
1 cup peanuts
¾-1 cup golden raisins
½ cup peanut butter chips
Preheat oven 350°.

In a small food processor grind the peanuts and set aside.

Cream together the shortening and both sugars.

Add eggs one at a time and blend well.

Add vanilla and mix well.

Whisk together the oatmeal, ground peanuts, flour, baking soda and baking powder.

Sift flour mixture into wet mixing until blended well.

Fold in raisins.

Bake 12-15 minutes.