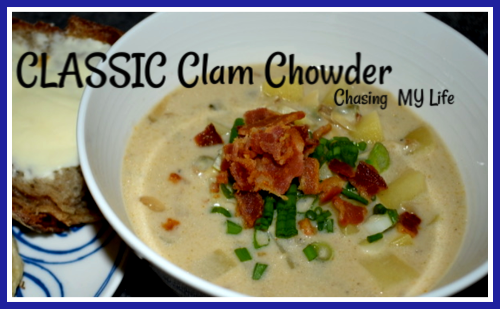 CLASSIC CLAM CHOWDER
2-10 ounce cans BUMBLE BEE whole baby clams
1-8 ounce bottle clam juice
1 cup white wine
3 cups chicken stock
2 tablespoons butter
2 tablespoons WONDRA flour
½ LARGE red onion, diced small
2 stalks celery, diced small
8 slices bacon, chopped small
¼ cup chopped Italian leaf Parsley
FRESH ground sea salt and black pepper, to taste
3 LARGE gold potatoes, peeled and diced
1 ½ cups half-and-half
2 green onions, sliced thin
In a large dutch oven, melt butter over medium high heat.
Cook bacon until crisp. Remove with a slotted spoon.
Add onions, celery and half of Parsley, sauteing until soft.
Add flour and blend well.
Strain clams, reserving juice.
Add clam juices, white wine and chicken stock, blending well.
Bring to a LOW SLOW boil. Reduce heat to medium low.
Add potatoes and simmer 15-20 minutes until potatoes are fork tender and soup has thickened to desired consistency.
Add clams.
Stir in half-and-half, simmering 5-10 minutes until clams are heated through.
Adjust seasoning to taste.
Garnish with reserved Parsley, green onions and bacon.