This recipe originally called for bone-in chicken and was for a slow cooker, but we MUCH prefer not to deal with bones and I wanted it to be a week night easy recipe, so we I have adjusted it to a boneless version. Plus hubby doesn't care for mushrooms so it makes it easy to serve this way and I get ALL the mushrooms. 😀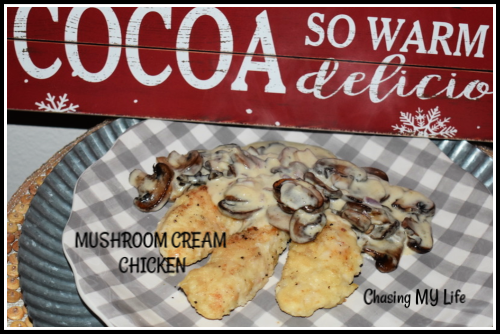 MUSHROOM CREAM CHICKEN serves 4
4 boneless, skinless chicken breasts or 8-10 tenders
1 ½ teaspoons herbs de Provence
FRESH ground sea salt and black pepper
¼ cup WONDRA flour
1 tablespoon butter
1 tablespoon avocado oil
1 cup chicken broth
½ cup white wine
2 tablespoons flour
8 ounces sliced mushrooms
1 leek, halved lengthwise and chopped
½ cup heavy cream
Generously salt and pepper each chicken breast.

Combine flour and herbs de Provence.

Dredge chicken in Wondra flour mixture.

Heat butter and avocado oil in large skillet over medium high heat.

Sear chicken pieces 4-5 minutes on each side until golden.

Remove chicken pieces and keep warm.

Add leek pieces and mushrooms to skillet and sauté' until golden.

Using a slotted spoon remove onions and mushrooms to the platter with the chicken.

Whisk together the chicken broth, white wine and 2 tablespoon of flour.

Add to skillet and bring to a SLOW boil.

Reduce heat and simmer 10 minutes.

Add heavy cream and whisk until well blended and you reach desired consistency.

Return chicken, leeks and mushrooms to pan and turn to coat with sauce.

Serve over mashed potatoes or pasta.