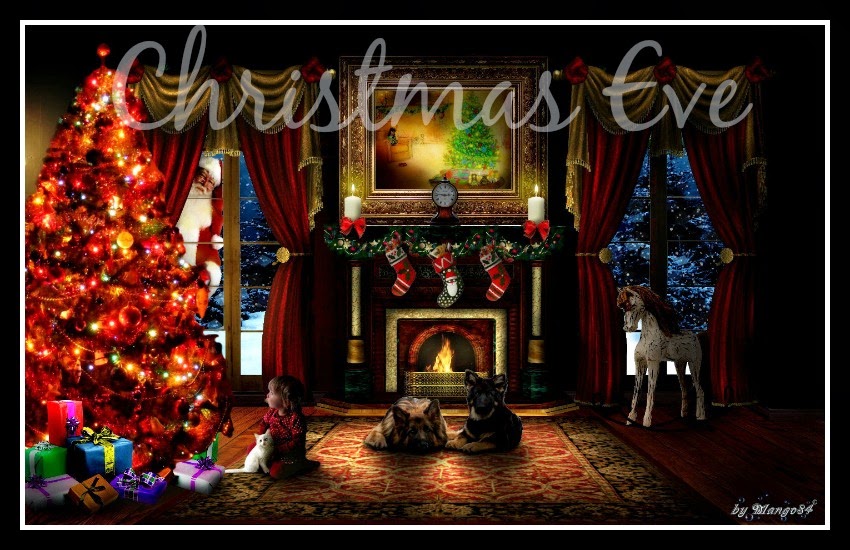 THE HOLIDAY SEASON & CHRISTMAS EVE…
Usually the holiday season is an endless list of tasks and errands.  Christmas Eve is usually at our house and then Christmas Day many times too.  The last several years though the holiday season has been quiet, many times too quiet.  This year will also be quiet.  With having been under the weather the past week, I didn't get my baking for the neighbor plates done until yesterday, but by last night I had everything cleaned up and the plates covered ready for delivery Christmas Eve afternoon. This year our selection is Cider Glazed Christmas Cakes, Golden Gate Brownies, Cinnamon Bun Cupcakes, Rolo Pretzel Turtles, Chocolate Pretzel PB Bars and Salted Caramels.

Personally, I love the hustle and bustle of the holidays.  I'm a list writer and as a Virgo usually have my presents bought early and the Christmas cards ready to mail by Thanksgiving, many times they are even hand made.  Having all this done and ready made it possible for me to go to the malls, get a nice cup of coffee and just watch other people hustle and bustle.  Then I would go home and cook and bake and then bake some more!
I learned much of this from my folks.  My folks would have the majority of their shopping done before Thanksgiving and then because of their hectic schedules dad would sit me down with all the gifts, a card table, wrapping paper, tape, bows and tags on the day after Thanksgiving and that was where I would spend the Thanksgiving weekend watching Christmas movies, eating leftover turkey sandwiches and wrapping gifts.  When the gifts were done, I would start on the Christmas cards.  LOL this wasn't an abuse of the child labor laws, it was how I earned a chunk of money for my own Christmas shopping.  Dad was a generous employer.
Christmas Eve was spent at our house with the immediate extended family (grams and gramps, aunts, uncles and cousins and many times neighbors too). We would do a big buffet and then open all our gifts to each other and have a party.  We'd go to sleep happy and sated while waiting for Santa.
Christmas day began with stockings and brunch.  By afternoon the turkey and ham were smelling great and we were ready to start all over.  Oh, it was the same bunch of people, but we would add a great aunt and uncle. Looney Louise, (okay we didn't call her looney to her face, but it is what made her such fun) made us cornflake wreaths with red hots and fudge too!  All us cousins would sit on the front porch waiting for them and for our wreaths!  It wouldn't have been Christmas without them!
Looney Louise many, many  years before she made us our wreaths!
It's Christmas Eve and Santa Claus is coming to town tonight. If you have kids, or are just a big kid at heart, you can track Santa's progress as he travels around the world on NORAD.
Merry Christmas everyone!


May the Christmas season bring you a bounty of joy,
happiness, health and everything else you desire!