This was a Bobby Flay French toast recipe, but with a few changes, it's now a cake!  You could still call it French toast and serve it for Brunch, but it's yummy enough for dessert too!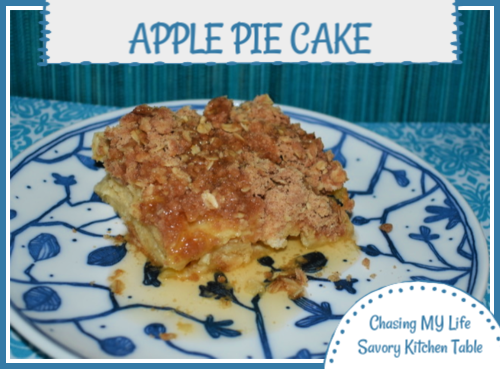 APPLE PIE CAKE majorly altered and formerly known as APPLE CRISP FRENCH TOAST CASSEROLE ala Bobby Flay
TOAST
1 loaf day-old sourdough bread, crust removed, cut into 1-inch cubes
Preheat the oven to 275 °.
Spread the bread cubes on a large baking sheet and bake 20 minutes.
Let cool.
Adjust the oven to 350°.
APPLES
1/2 cup sugar
1/4 cup apple cider, plus more for syrup if needed
Juice of 1 lemon
4 LARGE Granny Smith apples, peeled, cored and diced
2 tablespoons Coconut Rum
1/2 cup golden raisins
Combine the sugar, apple cider, lemon juice and coconut rum in a large saute pan and bring to a simmer over medium heat.
Stir in the apples and cook, stirring occasionally, until softened and caramelized, about 15 minutes.
Using a slotted spoon, transfer the apples to a bowl (you don't want the apples to be too wet) and let cool 10 minutes.
Reserve the apple cooking liquid for serving.
Fold in the golden raisins.
STREUSEL
1 stick (8 tablespoons) butter, softened
1/4 teaspoon fine salt
1/4 cup sugar
1 cup all-purpose flour
1/2 cup rolled oats
1/2 teaspoon cinnamon
1/3 cup crushed walnut pieces
While the apples cool mix together the butter, salt and sugar in a large bowl until smooth.
Add the flour, oats. crushed nuts and cinnamon and mix until well combined.
Refrigerate for 15 minutes.
ASSEMBLY
Softened butter for greasing the baking dish
3 LARGE eggs
2 LARGE egg yolks
1 teaspoon  PURE vanilla
1/2 teaspoon cinnamon
2 1/2 cups half-and-half
2 tablespoons PURE maple syrup, for apple syrup
4 tablespoons cold butter, cut into pieces for syrup
Butter a 9-by-13-inch baking dish with some softened butter.
Whisk the eggs, yolks, vanilla and cinnamon in a large bowl until smooth.
Whisk in the half-and-half, then fold in the cooled apples.
Add the bread and stir to coat, pressing down to make sure bread is totally submerged.
Let sit for 10 minutes.
Transfer the apple-bread mixture to the buttered 9×13 baking dish, pressing down to make sure the top is an even layer.
Scatter the streusel evenly over the top.
Cover with foil and bake for 30 minutes.
Uncover and continue baking until set, slightly puffed and lightly golden brown, another 30 minutes or so.
Remove from the oven and let cool slightly.
Reheat the reserved apple cooking liquid. (If very thin, simmer briefly over medium heat until reduced to a syrup; if there isn't much, add some apple cider and simmer briefly.)
Turn the heat to low and whisk in the maple syrup and cold butter, piece by piece, until emulsified.
Pour syrup over each piece as you serve it.