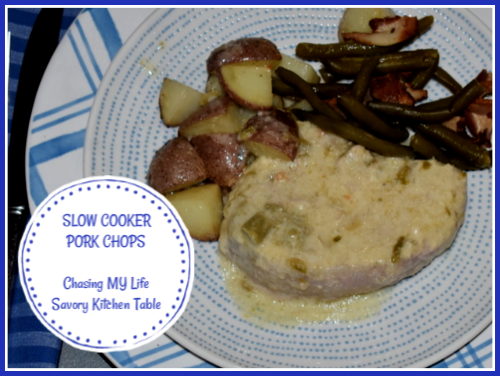 SLOW COOKER PORK CHOPS & RICE Yield: 6-8 servings
I think grams originally found this on a Campbell's soup label and her version was always done in the oven, which is part of what makes it a filling, hearty, winter family meal. Preparing this in the slow cooker makes it even easier and even more versatile! A little goes a long way, making it super easy and budget friendly too!
4 boneless pork chops
1 bunch green onions, chopped or sliced thin
2 cups chicken broth
1 cup water
1 – 10.5 ounce can cream of mushroom soup (see notes)
1 teaspoon garlic powder
FRESH ground sea salt and tri-color pepper, to taste
1 stick of butter, cubed
Spray the slow cooker insert with non-stick spray.
Add the pork chops.
Top with onions.
Whisk together the mushroom soup, chicken broth, water, garlic powder, salt, and pepper. Pour over pork chops and onions.
Add the cubes of butter on top.
Replace lid and cook on LOW for 6-7 hours.
Remove lid and shred the pork chops.
2 cups long grain white rice
1 cup water
1 to 1 1/2 cups shredded cheddar cheese
Add the rice and 1 cup of water.
Stir to make sure the rice is covered with liquid and replace the lid.
Cook on HIGH for 45 minutes to one more hour, or until rice is done cooking.
Remove the lid, add the shredded cheese, and stir.
Enjoy!
NOTE:
I change up the soup flavor to my likes of the day 😀
I also sometimes skip the rice portion and make potatoes instead.