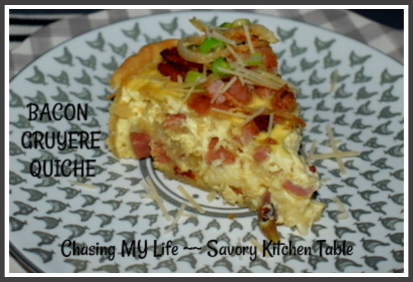 BACON and HAM GRUYERE QUICHE slightly modified from Alex Guarnaschelli's Quiche Lorraine

DOUGH
1 stick unsalted butter, cubed and chilled, plus more for greasing the pie plate
1 1/2 cups all-purpose flour, plus more for dusting 
1/2 teaspoon kosher salt 
2 LARGE egg yolks 
2 to 3 tablespoons ice water 
Preheat the oven to 375°.

Butter a 9-inch pie plate and set aside.

Pulse the flour and salt in a food processor to blend.

Pulse in the egg yolks and butter. DO NOT OVER MIX

Add the ice water through the top and pulse until the dough comes together and forms a loose ball.

Turn the dough onto a floured surface.

Place the dough between two sheets of parchment paper.

Roll into a round, about 10 inches in diameter.

Press the dough gently into the bottom and up and about 1 inch over the sides of the prepared pie plate.

Pinch the dough up to create a crimped edge.

Place one sheet of parchment over the dough and fill with pie weights.

Bake until lightly brown, 16 to 18 minutes.

Remove the parchment paper and pie weights and let cool.
CUSTARD
1/4 to 1/2 pound slab bacon, trimmed and cut into "lardons" (1/4-inch-thick by 1-inch-long matchsticks)
1/2 cup SMALL diced ham chunks
1 shallot, sliced thin
cornstarch
4 LARGE eggs 
1 1/2 cups half-and-half 
1/2 cup whole milk 
1/4 teaspoon ground nutmeg 
3 dashes hot sauce 
Dash Worcestershire sauce 
FRESH ground sea salt and tri-color pepper, to taste
2 cups grated Gruyere or baby Swiss
1/2 cup finely grated Parmesan
Minced fresh chives, for garnish 
Cook the bacon in a skillet until crispy, 5 to 8 minutes. Set aside to drain on paper toweling.

Toss shallots in cornstarch as a dredge.

Quick fry the shallots in hot oil or butter, set aside to drain on paper toweling.

Whisk together the eggs, half-and-half, milk, nutmeg, hot sauce, Worcestershire, salt and pepper in a large bowl.

Stir in the cheeses.

Place the pie shell on a rimmed baking sheet.

Scatter three-quarters of the bacon, most of the shallots and all the ham chunks over the shell, then pour the custard over the top.

Bake until set and brown and bubbly on top, 25 to 30 minutes.

Garnish with the remaining bacon, shallots and chives.

Slice and serve.