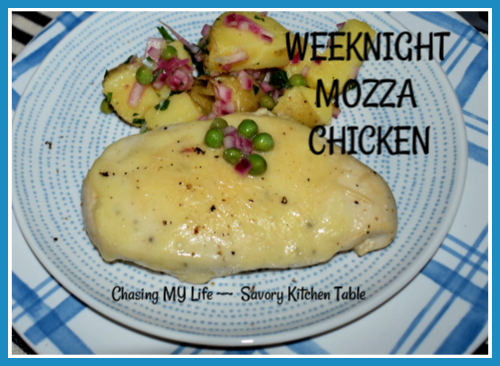 WEEKNIGHT MOZZARELLA CHICKEN
4 boneless, skinless chicken breasts or thighs
1/4 cup Italian dressing
1 teaspoon dried oregano
1/2 teaspoon red pepper flakes
FRESH ground sea salt and tri-color pepper
1 cup shredded mozzarella cheese
Preheat oven to 400°.
Line baking sheet with aluminum foil.
Pour Italian dressing into a ziploc bag.
Add oregano and red pepper flakes to ziploc bag.
Pound chicken to less than 1/2 inch thickness and add to bag.
Shake to coat chicken breast well.  Let marinade 2 hours in refrigerator.
Drain off dressing.
Place chicken on baking sheet and bake 15 minutes.
Remove chicken from oven and sprinkle with FRESH ground sea salt and pepper.
Sprinkle with mozzarella cheese until well coated.
Return to oven for 5minutes.
Serve immediately.