If you like baseball you've heard the name, but ANYONE from south Texas REALLY knows the name Nolan Ryan.  What you may NOT know is that his first passion was raising QUALITY beef and he has some of the best beef around!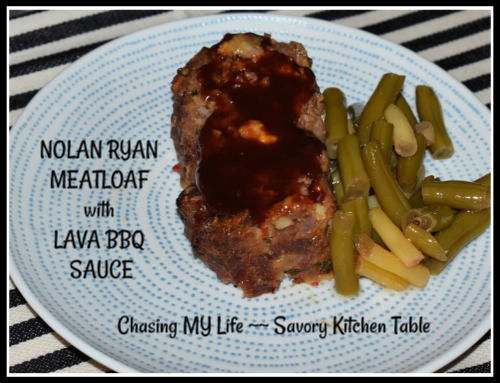 NOLAN RYAN MEATLOAF with LAVA MUSTARD BBQ SAUCE
MEATLOAF
2 pounds ground sirloin, NOLAN RYAN beef where possible
3 eggs, beaten
1 cup FINE bread crumbs
4 cloves garlic, minced
1 red onion, chopped
2 tomatoes, seeded and diced
1 SMALL red pepper, FINELY diced
1/2 cup chopped cilantro
1/4 cup Worcestershire sauce
3/4 cups shredded Jack cheese
3/4 cup shredded sharp cheddar cheese
2 teaspoons Frank's original hot sauce
1/2 cup packed brown sugar
FRESH ground sea salt and tri-color pepper
Preheat oven to 350°.
In a large bowl use your hands to combine all the ingredients until well mixed.
Place mixture in a greased loaf pan.
Bake 45 minutes.
Increase oven to 425° and cook 10 minutes more.
Top with sauce and bake 5 minutes more.
Serve immediately.
LAVA MUSTARD BBQ SAUCE
¼ cup unsalted butter
½ yellow onion, finely chopped
¼ cup Kentucky bourbon
1 cup barbecue sauce of your choice (I  use Sweet Baby Rays)
½ cup apple cider vinegar
½ cup brown sugar, packed
1 tablespoon QUALITY honey
1 tablespoon COLEMAN'S dry mustard
1 teaspoon cayenne pepper
Melt the butter in a small saucepan over medium heat.

Add the onion and sauté for 3-4 minutes, but don't allow the onion to turn brown.

Add the bourbon and cook off the alcohol, 1-2 minutes.

Add the barbecue sauce, vinegar, brown sugar, honey, mustard and cayenne. 

Simmer for 30 minutes, stirring at regular intervals.
NOTE:  I have to leave out the mustard due to allergies and find the sauce is still awesome!