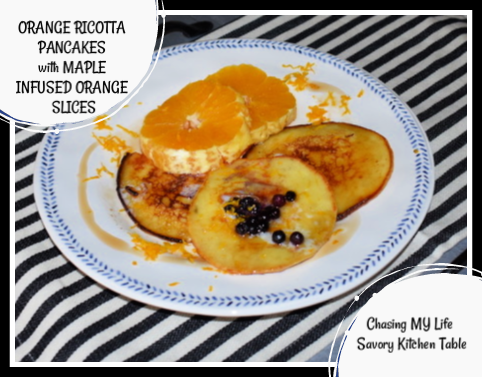 ORANGE RICOTTA PANCAKES with MAPLE INFUSED ORANGE SLICES
MAPLE INFUSED ORANGE SLICES
4 navel oranges
2 tablespoons orange juice
2 tablespoons lemon juice
1/4 teaspoon sugar
1/4 cup real maple syrup
Zest oranges and set aside for the pancakes.
Peel oranges making sure to remove pith.
Slice each orange into 5-6 slices and place into a microwave safe bowl.
Whisk together the orange juice, lemon juice, sugar and syrup.
Pour over orange slices.
Microwave 15 seconds before serving.
PANCAKES
1 3/4 cups part-skim ricotta cheese
1/3 cup sugar
1 tablespoon orange zest
2 tablespoons orange juice
2/3 cup flour
2 LARGE eggs
3-4 (1+1+…) tablespoons butter
Whisk together ricotta, sugar, zest, juice, flour and eggs until smooth.
Melt 1 tablespoon of the butter in a non-stick skillet over medium-low heat.
Pour 1/4 cup of batter for each pancake. Cook 3 minutes until bubble form along the edge and
batter appears dry. Flip and cook another 3 minutes until golden.
Melt 1 additional tablespoon of butter as needed for each batch of pancakes.
Serve with butter and orange slices on top of each plate of pancakes.