This is one of those recipes that became COMPLETELY altered by the Corona virus pandemic because I had to work with what I had on hand.  And I am so glad!!!!  This turned out fantastic and NOTHING like the original.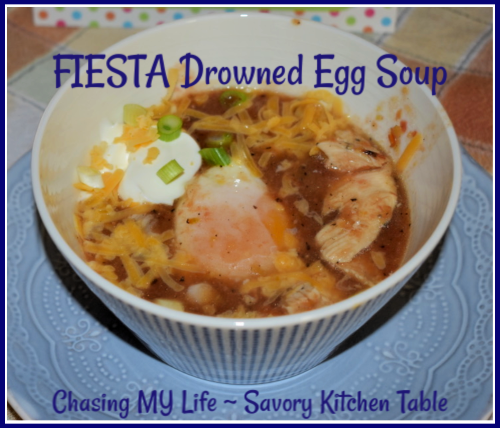 FIESTA DROWNED EGG SOUP serves 4
14.5 ounce can Hunt's fire roasted tomatoes with garlic
1 small can chopped green chiles
10 ounce can Green Chile Enchilada Sauce
2 cups chicken broth
2 boneless, skinless chicken breasts
FRESH ground sea salt and black pepper
1 tablespoon butter
4 LARGE egg yolks
Bread bowls (optional)
Grated Cheddar Cheese (optional)
Chopped green onions (optional)
Combine fire roasted tomatoes, green chiles, chicken broth and enchilada sauce in slow cooker.

Using an immersion blender, blend until the bigger chunks are reduced to amanageable size.

Set slow cooker to low and cover for 4 hours.
At the 4 hour mark, generously season the chicken breasts with FRESH ground sea salt and black pepper.

Melt butter in cast iron skillet over medium heat.

Add chicken breasts and sear each side 4 minutes or until cooked through.

Shred chicken and add to slow cooker.

Gently drop egg yolks evenly into soup.

Cover and cook for 30 minutes.

Serve in bread bowls with shredded cheese and green onions.  I added a dollop of Daisy too 😀