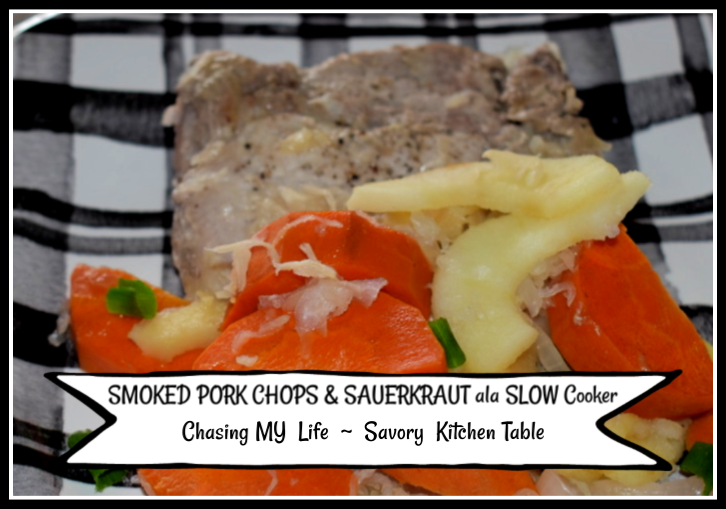 SMOKED PORK CHOPS & SAUERKRAUT ala SLOW Cooker – serves 4
4 bone-in pork chops, at least 3/4 inch thick
FRESH ground salt and pepper, to taste
2 tablespoons butter
1/3 cup FRESH grated apples
2 VIDALIA onions, chopped
2 Granny Smith apples, peeled and sliced
2 LARGE carrots, peeled and sliced into 1 inch pieces
2 pounds sauerkraut and its juice
4-6 LARGE sprigs rosemary
Spray crock pot insert with non-stick cooking spray.
In a large bowl toss together gently the sauerkraut and its juice, apples, onions and carrots.
Spoon half the mixture into the slow cooker.
Heat 2 tablespoons of butter over medium high heat in large skillet.
Do a quick sear on each side of pork chops.
Top with pork chops in a single layer if possible.
Cover with remaining sauerkraut mixture on top of pork chops.
Sprinkle with rosemary sprigs.
Cover and cook on low 2-3 hours or until chops are cooked though and carrots and apples are tender.
Remove sprigs and enjoy.