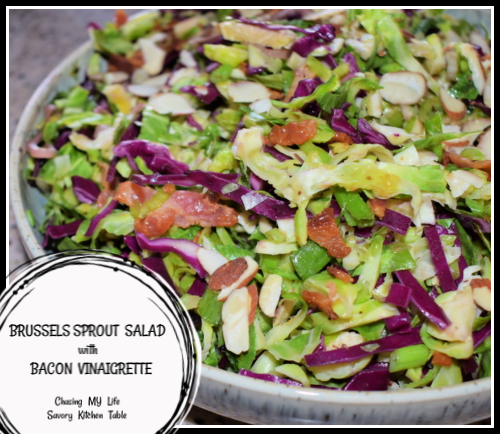 BRUSSELS SPROUT SALAD with BACON VINAIGRETTE
1/4 cup red wine vinegar
2 tablespoons apple cider vinegar
2 tablespoons Bragg's liquid aminos
1 teaspoon sugar
FRESH ground sea salt and black pepper, to taste
1 shallot, halved and sliced thin
8 slices bacon, diced
1 1/2 pounds Brussels sprouts, roots trimmed, halved and sliced thin
2 cups shredded red cabbage
1 bunch green onions, sliced thin
1/4 cup grated Parmesan cheese
1/4 cup sliced almonds, toasted
Whisk together vinegars, liquid aminos, sugar, salt and pepper in a small bowl.
Add shallot slices and cover tightly with plastic wrap.
Microwave for 1 minute until steaming.
Stir making sure shallot are submerged.
Recover and let cool 15 minutes.
While vinegar mixture is cooling cook bacon until rendered and crisp.
Remove from heat and whisk in shallot mixture, stirring well.
Add Brussels sprouts, red cabbage and green onions, tossing and cooking 2 minutes until well coated.
Transfer to a large salad bowl and sprinkle with cheese and almonds, gently tossing again.
Season to taste with FRESH ground sea salt and black pepper.