This is a Molly Yeh recipe from Girl Meets Farm. I normally love her recipes and experimenting with new things, but this one needed some serious tweaking to make it right.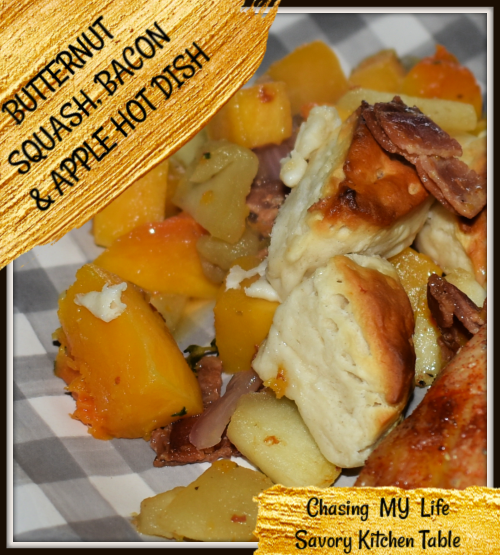 BUTTERNUT SQUASH, BACON and APPLE HOT DISH
FILLING
3/4 pound thick-cut bacon
2 large purple onions, chunky thin wedges
2 pounds 1 small butternut squash, seeded, peeled and chopped into small 1/2-inch cubes
6 sprigs fresh thyme, stems removed
Kosher salt and freshly ground black pepper
Crushed red pepper flakes
1/8 cup white wine
1/2 cup vegetable broth
2 3 large Honey Crisp Granny Smith apples, chopped into 1/2-inch cubes
In a LARGE cast iron skillet cook bacon until crisp. Remove to paper toweling for draining.
Drain half the bacon grease from the skillet, leaving just enough to coat the skillet.
Add the onions and turn the heat to medium-high. Saute until soft, about 10 minutes.
Add the squash, thyme, some salt, a few turns of pepper and a few pinches of crushed red pepper, stirring occasionally, about 8-10 more minutes.
Add the wine and broth.
Roughly chop the bacon and add it to the skillet along with the apples.
Bring the mixture to a SLOW boil, then reduce the heat to low and simmer for 10-15 minutes, while you make the biscuits.
BISCUITS
2 cups all-purpose flour, plus additional for dusting
2 teaspoons baking powder
3/4 teaspoon kosher salt
14 tablespoons unsalted butter, cold and cubed
1/4 cup heavy cream
1 large egg, lightly beaten
FRESHLY ground black pepper
Preheat the oven to 425°.
Whisk together the flour, baking powder and salt in a bowl.
Add the butter and, using a food processor, pastry cutter or your hands, incorporate the butter until the mixture is the consistency of raw oatmeal.
Mix in the cream until the mixture comes together to form a dough.
Turn it out onto a floured work surface, pat it out to 3/4-inch thick and then cut out round biscuits, re-rolling scraps as needed.
Turn off the heat before dotting the top of the skillet with the biscuits.
Brush the biscuits with the beaten egg and top with black pepper.
Bake until the biscuits are golden brown, cooked through and flaky, about 25 minutes.
Remove from oven and serve right from the skillet!
NOTE: 
NEXT TIME I will change the apples to Granny Smiths and add an extra apple and decrease the squash.  Hubby wants me to trade the squash altogether for potatoes or Brussels sprouts.
This recipe also works well with "cheater" biscuits from the dairy case 😀