To play along, link up with Martha at SEASIDE SIMPLICITY
1 WEEKLY RECAP It was a strange week, but oddly quick.  I guess the holiday made it seem quicker than it was for some reason.  We never go anywhere for the 4th anyway, but falling on a Saturday always seems to make it seem more like a long weekend.  Based on the traffic I saw at the gas station and getting on the freeway I think a lot of people were traveling.  I have to be honest it scares me because I saw a ton of camping equipment and boats which means there probably won't be a lot of social distancing or masks going on.

2 WEEKLY TO DO
| | |
| --- | --- |
| MONDAY | |
| TUESDAY | WASH CAR, LAST MINUTE ERRANDS |
| WEDNESDAY | |
| THURSDAY | |
| FRIDAY | |
| SATURDAY | |
| SUNDAY | |
3 MENU PLANS Since I'm not giving you much of a menu this week, I will give you my FAVORITE cheesecake recipe instead.  It's PERFECT every time! This time I made a creamsicle version.

| | | | | | | | |
| --- | --- | --- | --- | --- | --- | --- | --- |
| | MONDAY | TUESDAY | WEDNESDAY | THURSDAY | FRIDAY | SATURDAY | SUNDAY |
| DINNER | GRILLED CHICKEN with PEACHES & GREEN TOMATOES | C.O.R.N. | TRIP | TRIP | TRIP | TRIP | TRIP |
| DESSERT | | AUSTRALIAN CHEESECAKE | | | | | |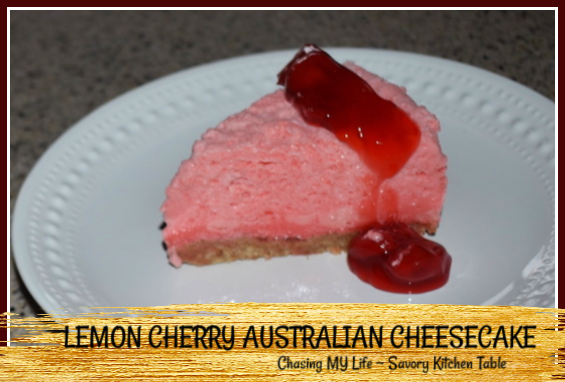 I found this recipe in an old (1960's) cookbook put together for a lake area homeowner's association. I have no idea what makes it "AUSTRALIAN" and Ruth Traum is unknown to me so I can't even ask her. I tried to do research and found several recipes called "Australian), but none of them said WHY they were "AUSTRALIAN". Best I can tell it's just a version of a no-bake cheesecake, but it's SUPER airy and light.
Ruth's recipe used lemon jello, but it is a simple thing to change up the flavor to your liking. I mixed a box of cherry and lemon, using only half then and saving the other half for another time. You can also substitute ginger snaps for the vanilla wafers or mix in some pretzels for and extra crunch… The second time I made it I used a combination of lemon and lime on the jello… The cherry was better, but we'll try orange next time 😀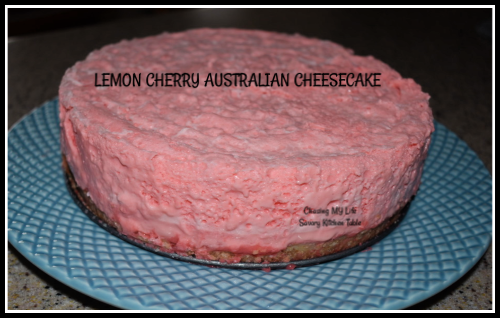 AUSTRALIAN CHEESECAKE ~ LEMON CHERRY
1 small box Vanilla Wafers (crushed to make 2 cups of crumbs)
6 tablespoons butter, melted
8 ounces cream cheese, softened to room temperature
1 cup sugar
1 small box lemon jello
1 teaspoon vanilla
Juice and zest of 1 LARGE lemon + hot water to equal 1 cup
1 LARGE can Carnation milk (VERY COLD) 12 ounces VERY COLD heavy whipping cream
1 can pie cherries in glaze (optional)
Preheat oven to 300°.

Crush wafers and mix with melted butter until well mixed.

Press crumb mixture into the bottom of an 8 or 9 inch spring form pan. If you use the 8 it will COMPLETELY fill the pan. If you use the 9 inch it provides a couple more pieces, just not as tall. 😀


Bake for 10 minutes and then cool.

Whisk jello into hot water mixture until dissolved.

Beat cream cheese, sugar and vanilla until smooth.

Add in jello mixture until well blended.

Beat carnation milk with chilled beaters until very stiff.

Fold whipped milk into cheesecake mixture and pour into cooled crust pan.

Chill AT LEAST 8 hours, but this cheesecake is best made 24 hours in advance!

Top with whipped cream or pie cherries and enjoy!
4 SOMETHING TO SHARE The local paper ran an article on a coin shortage.  Long story short the people who work the sorting facilities are NOT working right now so there is an actual shortage of coins in circulation and businesses need your help.

5 PHOTOS OF THE WEEK We did do a nice hike around the pond on the 4th.  It was perfect and there was NO ONE else around.  Usually there are a lot of people, fishermen, kayakers, etc… so we were pleasantly surprised and happy.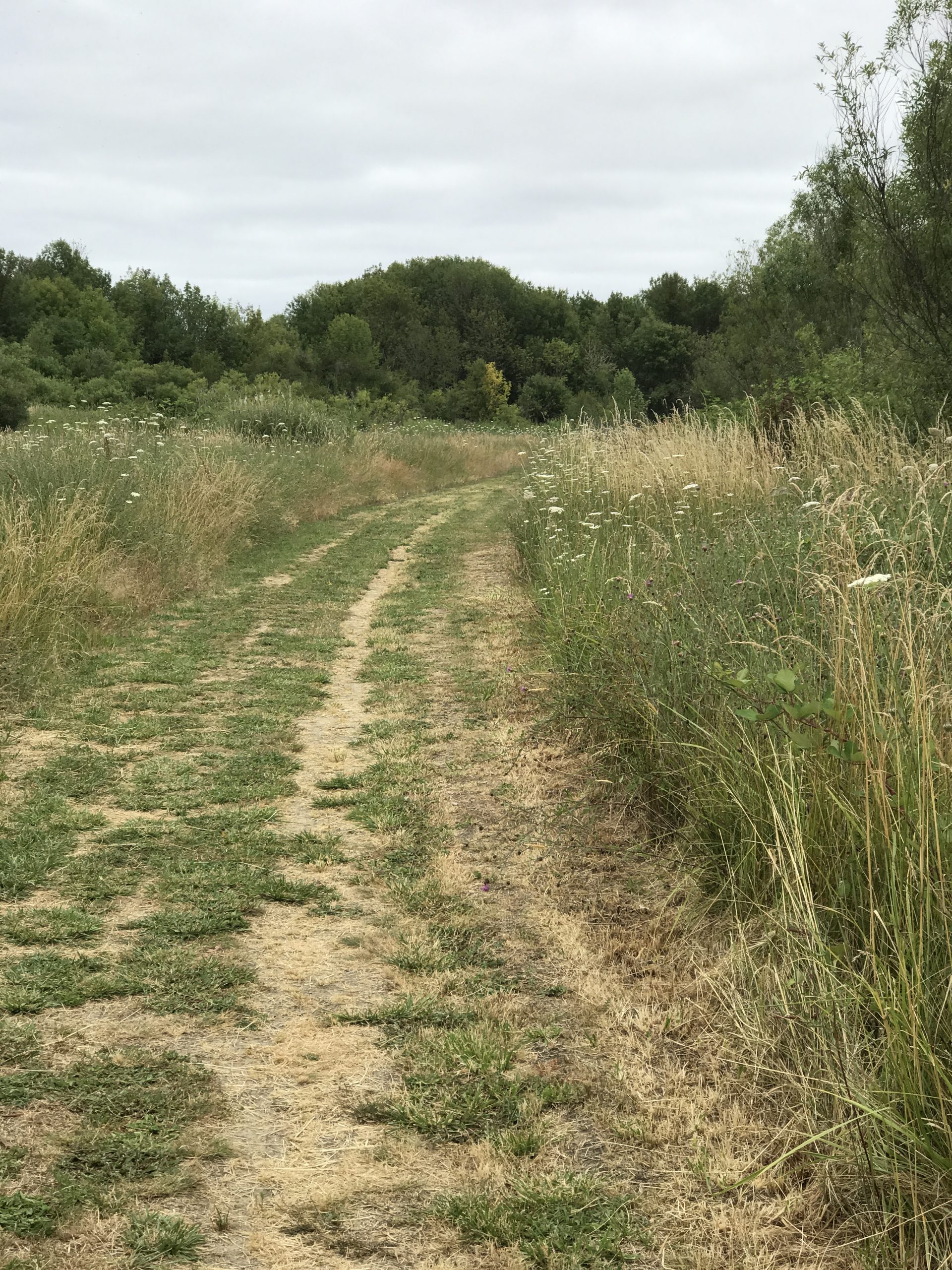 6 CLOSING THOUGHTS