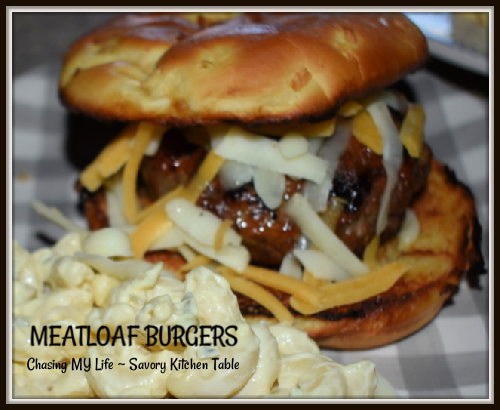 MEATLOAF BURGERS
1/2 pound ground sirloin
1/2 pound ground pork
1 LARGE egg
2 teaspoons Worcestershire sauce
1 teaspoon FRESH minced thyme
FRESH ground sea salt and black pepper
1/3 cup ketchup
2 tablespoons packed brown sugar
2 teaspoons apple cider vinegar
4 buns
Combine ground sirloin, ground pork, egg, Worcestershire sauce, salt and pepper in mixing bowl.
Shape into 4 patties.
Whisk together the ketchup, brown sugar and vinegar. Set aside 1/3 cup for serving.
Grill patties on greased grill 5-7 minutes until browned.
Flip burgers and brush with glaze, cooking another 5 minutes.
Transfer burgers to platter and serve with buns, cheese and reserved glaze for dressing buns.